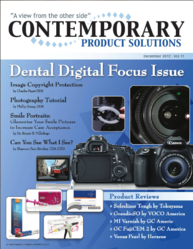 "Our December Issues is packed full of Digital Photography and Dental Product Reviews for the complete dental team"
Virginia Beach, VA (PRWEB) December 29, 2012
CPS Magazine is excited to release their Winter magazine for 2012. Readers can increase their understanding of the latest dental products on the market as well as outstanding dental articles for the entire team. The mission at CPS is to provide the dental community with clinically relevant information for all areas of the dental practice.
Contemporary Product Solutions (http://www.cpsmagazine.com), was founded in January 2010 by Erik and Shannon Pace Brinker, CDA. The first magazine was strictly about dental evaluations and now we have incorporated articles for the entire team. The editorial staff and team of evaluators have been a huge asset to CPS's success. The innovative solutions to educate the dental field and assist in delivering outstanding dental products and dental materials for the patients that have exceeded expectations.
CPS magazine is the only digital magazine that provides editorial of its kind, delivering current product reviews for the whole team to include dentists, hygienists, assistants, lab and office in one magazine. To maintain pace with the digital community, Contemporary Product Solutions just recently announced their digital edition can be read on all mobile devices such as iPad, Kindle Fire, Tablet and all Smartphones, which will increase the reading experience for the dental community.
The clinical evaluation process is an objective process to communicate to the dental community "the evaluator's findings" of how a dental product functions or a piece of equipment performs in a dental practice through the perspective of the dental team. The process begins with a customized evaluation pdf/online survey for identified evaluators. Contemporary Product Solutions and the dental manufacture will agree to a recommended quantity. Requirements for all of the evaluators to provide "step by step" photographs of the evaluated products as well as written comments/solutions. CPS is currently achieving a 95% survey return rate and making the necessary steps to hit 100%. Once the surveys are completed, each are summarized for an editorial review along with a pictorial tech-spec on how the product was used in their practice. With the addition of CPS clinical articles on dental application each team member in the practice is offered free Continuing Education Credits along with samples of products reviewed.
Dr. Frank Milnar, DDS, AAACD was asked about his experience has an evaluator with CPS. "Being a product evaluator for Contemporary Product Solutions is both interesting and responsible. CPS evaluations can affect the behavior of dental offices and their implementation with next generation materials. CPS provides evaluations to reputable and ethical companies who have non biased approach to better the profession. Contemporary Product Solutions is one of those companies. With Shannon Pace Brinker at the helm, I trust that she has the best intentions in mind for the dentist and auxiliaries alike to find solutions for the dental applications that face us on a daily basis."
All evaluations will be available 24/7 on CPS Magazine Website and in the Digital Magazine. Our product reviews and articles can be also be read in Dental Products Reports, American Academy of Cosmetic Dentistry and Henry Schein monthly dental magazines.
For information on CPS, please visit http://www.cpsmagazine.com or contact via email Shannon(at)cpsmagazine(dot)com or Erik(at)cpsmagazine(dot)com.