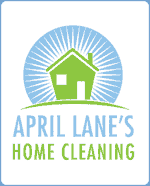 Seattle, WA (PRWEB) December 31, 2012
New Year's traditions around the world are usually associated with resetting or renewing the self and home. This resetting is accomplished in a physical or metaphorical sense by bracketing off the year that has passed and starting fresh.
Seattle maid service, April Lane's Home Cleaning, couldn't agree more with this idea, but offers several other reasons to have a house professionally cleaned to ring in the new year. While some cultures begin their year during a different month than January, it is precisely this seasonal distinction that makes it so important for Seattle residents to start the new year off on the right foot.
Here are several reasons for having a house professionally cleaned in the month of January:
End of Party Season
The new year marks the end of the holiday season and with it comes the laborious task of deep cleaning following holiday parties. Many may have opted to have their houses professionally cleaned prior to the holidays, but often cleaning up after a party is much harder than cleaning up before. Carpet stains from spills and increased traffic need to be taken care of and should not be left unattended to for long. Upholstery and other furnishings will need special care as well. Maid services that offer occasional cleanings based on hourly charges often offer other specialized services for a nominal fee.
Make Room for New Gifts
The holiday season has come and gone and house holds have likely acquired a bunch of new stuff. New furnishings and electronics will need to find a place in the house, but only after moving out the old stuff. Replacing an entertainment center or a bed can unearth a hidden mess that has accumulated over time. The old saying that goes "out with the old, in with the new" is abundantly applicable here. Why not use this time for a thorough professional cleaning to keep these nice, new gifts - well, nice and new?
Beginning of the Indoor Season
In the Pacific Northwest it has been raining for a couple months now, but it is still only the beginning. Spending more time indoors means more mess. This can take the form of tracked in mud from outside to the proliferation of dust mites. Whatever the source of the mess is, wouldn't it be nice to have a professional cleaner renew one's house before the long stretch of wet weather really sets in?
Head Start on Resolutions
While most New Year's resolutions have to do with personal improvement, many people use household tasks to propel them in the right direction. Cleaning out one's mind and taking better care of one's physical body is much easier when surrounded by a professionally cleaned abode. Sometimes resolutions directly involve house cleaning. For those who have better things to do, or just have limited time, a maid service who offers occasional or one time cleanings can be the head start a person needs to start the new year off right.