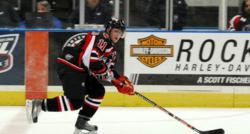 SOUTHAVEN, Miss. (PRWEB) December 27, 2012
Mississippi RiverKings Head Coach and Director of Hockey Operations, Derek Landmesser announced that the team has signed forward Mike MacDonald to a contract. Terms and conditions were not released.
"We're excited to have Mac, with his veteran leadership, in the lockerroom," said Landmesser. "He's a very strong two-way center that will add offense and defense to our club."
The 28-year-old native of New Glasgow, Nova Scotia signed to a three-game tryout contract on December 22, 2012 after a three-year stint with the Huntsville Havoc. MacDonald appeared in 19 games with the Havoc this season and tallied eight points (4G, 4A) prior to his release.
To make room for MacDonald on the active roster, the RiverKings released forward Anthony Pototschnik. Pototschnik, 26, appeared in 11 games with the RiverKings, totaling 26 penalty minutes.
The RiverKings also re-signed forward Matt Harrington to a second three-game tryout contract. During his first stint, Harrington, 22, tallied one goal. With Harrington's signing, the RiverKings placed forward Kevin Fukala on the 30-day IR.
The RiverKings return to the Landers Center on Friday, December 28 as they take on the Columbus Cottonmouths at 7:05 p.m. It's Friday Night Teen Night where teenagers can get a red-level ticket, a popcorn and a soda for just $10 available online at ticketmaster.com or at the Landers Center Box office. Be sure to keep up with the RiverKings on Facebook (facebook.com/mississippiriverkings) and Twitter (twitter.com/riverkings).
The Mississippi RiverKings are supported by their community partners, season ticket holders, fans, and by program-related investments of the Maddox Foundation, an independent private foundation based in Hernando, Miss. To find out more about the RiverKings, call 662.342.1755 or visit http://www.riverkings.com.