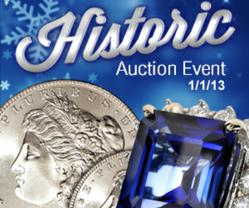 Tehachapi, CA (PRWEB) December 28, 2012
GovernmentAuction's historic Jan. 1, 2013 auction will feature a huge selection of designer watches, fine jewelry and gold coins in this world-famous auction event on the online auction site LiveAuctioneers.com. Bidding in this one-day annual event will start at only $2 on most lots. The auction will begin at 6:30 a.m. Pacific.
A featured high end jewelry piece is a stunning 16.92CT Sapphire and Diamond Ring. Long considered in ancient times to be a precious stone representing holiness or the heavens the blue sapphire was a favorite among kings for their supposed ability to attract divine favor. This divinely composed ring is made of 14k white gold and contains 2.65ct side diamonds surrounding the main large rectangular cut fancy blue sapphire. The total weight of the ring is 13.7 grams.
Offered for auction in the watch category is Vacheron Constantin Geneve Men's Watch. Originally founded in 1755, the Vacheron company has a long illustrious past of being owned at different times in its history by notables such as Napoleon Bonaparte, Pope Pius XI, Harry Truman and the Duke of Windsor. The watches are manufactured in Geneva Switzerland and is one of the oldest watch manufactures in the world. With a pedigree such as this, these prestige watches are highly sought after and collected. The Vacheron featured in this auction event is a simple yet elegant design of a brown leather band with a white face and black lettering encompassed in stainless steel casing. Also featured in the fine watch category is a Men's Rolex Submarine Stainless Steel Watch. The watch comes in the original box with certificates included.
In keeping with the luxury theme offered for auction is a Louis Vuitton Purse. The top handle purse is brand new from the factory and sure to be a bidding favorite. The handbag is the classic design Louis Vuitton is famously known for of brown leather and gold logo. The clasp and top part of the bag is a lighter cream colored leather with gold colored fittings.
In addition to the luxury goods being presented, the auction house is also featuring a collection of gold coins. A unique coin offered is a 1904 $20 U.S. Liberty Head Gold Coin. The "Double Eagle" as the coin is also referred to was minted from 1850 to 1907 during the height of the California gold rush. Of all the gold coins minted before 1907, the Double Eagle had the highest gold content, almost one full ounce of pure gold. Designed by James B. Longacre the coin weighs 33.43 grams and is composed of 90% gold and 10% copper.
In the antique category a highlight item is a Antique 3 Piece Ansonia Clock. The Ansonia Clock Company was a major 19th century American clock manufacturer based in New York. The highly successful business crafted thousands of clocks in numerous styles. This clock is genuine Ansonia and in mint condition. It features a romantic spring theme of a young maiden surrounded by sculpted irises and pansies. The patina is original and delicately colored in bronze, light green, blue and purple tones.
Additional auction highlights include a rare Crescent Upright Coffee Grinder, 1793 Chain Cent XF Porous Full Rim Coin, Cailli Upright Slot Machine and more.
To view this auction please click the link below
World Famous GovernmentAuction New Years Sale- Tuesday, January 1, 2013 | 6:30 AM Pacific
http://www.liveauctioneers.com/catalog/35336_world-famous-governmentauction-new-years-sale/page1
For additional information on any lot in the sale, call Debbie on 661-823-1543 or e-mail info(at)governmentauction(dot)com.
About Government Auction
Government Auction was founded as a general resource to buying assets such as jewelry , gemstones, memorabilia, collectibles, art, prints, antiques, and vehicles throughout the United States. Most people don't realize there are hundreds of thousands of assets and valuables that are seized everyday and made available through various resources. Many of these confiscated assets are passed on to us for immediate liquidation. Some examples of how we acquire requisitioned objects are from bankruptcies, IRS, estate sales, trusts, and more.
Government Auction is the largest company of its kind and the only one in the United States that works closely with these agencies to acquire literally thousands of assets and confiscated goods, such as Ruby Gemstones, Sapphire Rings, and Men's President Rolex Watches, Mercedes Benz, and Gold Coins. In most cases we acquire these treasures at a fraction of their actual retail value. Once acquired these items are liquidated through the auction site. Clients are made up of just the everyday person who wants to buy a Diamond Bracelet, Pearl Strand Necklace, Sterling Silver Pink Sapphire Earrings, Oval Cut Emerald Gemstone Parcel, Remington Bronze Reissue at an unbeatable price.
All assets that we offer are normally at a 30% - 60% savings to the client. What this means is consumers are making a good investment immediately. By purchasing assets cheaply people can make a sizeable profit if they decide to resell it later on.
Government Auction is one of the most reputable jewelry and gem clearinghouse company in the U.S., with over 20 years of experience.