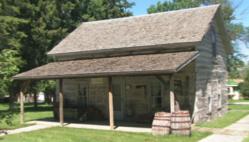 History is all around us, waiting to be discovered.
Brandon, Minnesota (PRWEB) December 28, 2012
With public attention focused on the anniversary of the 1862 Dakota Conflict this past year, Lakes Country Living has filmed at some interesting locations that don't usually get much attention. Three new episodes relate, specifically or indirectly, to the Dakota War and its impact on settlement of the area. Fort Pomme de Terre, recently brought into the public's eye through a series of novels by Candace Simar, is one example. The actual location in rural Grant County, including a memorial for two soldiers who were killed during the Conflict, is on private property that's normally not even open to the public. A story segment about the Fort and a story segment about the Village of Pomme de Terre, a ghost town, are scheduled to air this season.
Another story that is scheduled to air this coming month was filmed in Otter Tail County. In 1876 Fort Juleson - today an abandoned earthen fort near Underwood - was built during the panic following Custer's defeat. To tell the story, local historian and author Clifford S. Knutson was interviewed; some of the episode was filmed on location and some footage was taken at the Otter Tail County Museum in Fergus Falls. "We need to remember that there was a point in time when this was the edge of the frontier" observes Steve Henning, the show's host and producer.
Since Lakes Country Living started airing three years ago, Henning has sought out forgotten or overlooked local history stories in outstate Minnesota. Often the historic sites tend to be forgotten or simply overlooked. Take the Log Church of Norway Lake, for instance. Located on a gravel township road near Sunburg in rural Kandiyohi County, the site is a gold mine of information on log buildings and stories about the first Scandinavian settlers in the area, and features two very early, authentic log structures and one reconstruction.
Henning likes to feature other unique historic stories on Lakes Country Living, too – picking locations where many people have direct personal connections, or links through their families. Examples of these stories include the old general store in Big Falls (Koochiching County), Terrace Mill (Pope County), or the Brandon Auditorium (Douglas County). Henning explains: "Each of these locations was a crossroad or community hub of activity that still holds a place in the hearts of many." He points out how places like the ghost town of Pomme de Terre, Edgefield and other pioneer cemeteries may so easily be forgotten, yet give much color to rural Minnesota.
You might think the Lakes Country Living studio is haunted. "I guess, in a way, it is" reflects Henning. "We have filmed many stories about local history, and the characters that populate those stories can be pretty interesting. Sometimes they stay with you."
James Allison "Cap" Colehour might be considered one such character. A Civil War veteran with a colorful and well-documented history, Cap built one of the first homes and a resort hotel in Battle Lake. A Union sharpshooter who was wounded twice, Cap entertained local children by pruning trees with his deer rifle. Just recently opened, The Prospect House and Civil War Museum is an historic treasure, and the family personalities in its past make this story one that Henning is especially proud to share with the television audience.
Not all of Lakes Country Living's local history stories are 'ghost stories' - sometimes local history can be told in the first person. In another story segment titled A Place Called Home life-long resident Myron Severson recalls what it was like to grow up on a Century Farm, without the luxuries of running water or electricity, as he revisits the homestead with the television cameras rolling. Another shining example is the ITOW Veterans Museum in Perham, filled with first-person accounts on film, audio recordings and letters sent home from the front lines.
Lakes Country Living is a half-hour made-for-cable video magazine featuring stories of out-state Minnesota. Hosted by nationally acclaimed landscape painter Stephen Henning, the show's topics usually include the arts, agriculture, Main Street entrepreneurs, local history, natural resources and outdoor recreation. Particular attention is given to conveying local flavor. Now in its third season and airing on 16 telecoms' cable networks in Minnesota and North Dakota, Henning hopes more stations will pick up the program, as he continues to add stories from a wide region to the show's content.
Dave Wolf, General Manager of Gardonville Cooperative Telephone Association, adds: "I find the story segments about local history on Lakes Country Living are always interesting, and we have even received comments from (digital television) customers who like the show's spin on area history."
Other stories that are in development include a tour of Chippewa City, the Olaf Swenson farm, and a segment on Michael Dowling – a story Henning finds "very inspiring." He also hopes to film some Native American story segments: "there's a much older history to be told." More information is available online at http://www.lakescountry.tv.