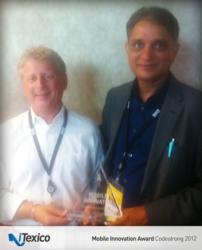 iTexico has worked closely with Appcelerator's sales and professional services teams to jointly win & deliver outstanding applications for some of our most important customers – Sandeep Johri, COO of Appcelerator.
San Francisco, CA (PRWEB) December 28, 2012
iTexico, a fast-growing nearshore technology company focused on mobile development and extended teams, has announced it was recognized with a Partner Award at Appcelerator's CODESTRONG conference for mobile developers earlier this year for leading the Titanium community in Latin America.
As an Integration and Training Partner, iTexico has worked jointly with Appcelerator from a sales and delivery perspective to drive both license and service business, access new customer opportunities and create new recurring reseller/referral revenue streams, increase profitability and close deals more quickly. Also, iTexico has successfully implemented a Titanium training program to deliver training classes all across Mexico and South America in countries like Chile and Argentina.
"Our goal is to help our customers reduced their costs and go to market faster with the best technology solutions possible, this is a firm step in that direction. Together we will continue creating some exciting mobile applications and help grow the Titanium community in the US and Latin America," said Anurag Kumar, CEO of iTexico.
For Appcelerator, this partnership has helped the company grow into new markets and continue to consolidate Titanium as the number one cross platform mobile development software tool. "iTexico has received this award for being a tireless Titanium advocate & betting their business on Appcelerator; iTexico has worked closely with Appcelerator's sales and professional services teams to jointly win & deliver outstanding applications for some of our most important customers" said Sandeep Johri, COO of Appcelerator.
About iTexico
iTexico is a fast-growing Austin based company with offices in Silicon Valley and a strong presence in Mexico that helps technology and publishing companies bring their solutions to market faster at lower costs and high quality. The company does this by providing world class cross platform mobile development, outsourced software services, extended teams and world-class training courses. iTexico currently serves a large number of clients across the US and employs highly experienced professionals in a delivery center located in Guadalajara, Mexico. Please visit http://www.itexico.com.
About Appcelerator
About Appcelerator Appcelerator's Titanium is the leading mobile platform of choice for thousands of companies seizing the mobile opportunity. With more than 50,000 applications deployed on 80 million devices, Appcelerator's award-winning Titanium platform leverages over 5,000 mobile device and operating system APIs to create native iOS and Android apps, and HTML5 mobile web apps. Customers who standardize on the Titanium Platform get to market 70 percent faster and can quickly optimize business results with analytics- driven insights into user behavior and app performance. Open and fully extensible, Titanium makes it easy to integrate data, content and services from a variety of sources into mobile applications to leverage best-of-breed capabilities. Appcelerator Cloud Services (ACS) provides instant social, location, communication and content features for user-centric mobility. Appcelerator's worldwide ecosystem includes 350,000 mobile developers and hundreds of ISVs and integration partners. Please visit http://www.appcelerator.com.
Appcelerator is a registered trademark of Appcelerator Inc. Appcelerator Titanium is a trademark of Appcelerator Inc. All other trademarks and copyrights are the property of their respective owners.