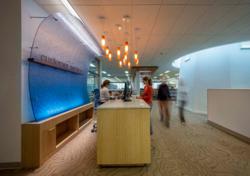 This year's library architectural landscape encompasses combination spaces, meticulous renovations and restorations, and innovative thinking in the reuse of existing structures.
Malibu, CA (PRWEB) December 28, 2012
The Library Journal publishes its comprehensive Year in Architecture list and the LPA-designed Malibu Library scores a coveted spot. Officially open to the public on Earth Day, April 22, 2012, the Malibu Library is a renovation success story in a beachside community famous for its scenic beauty and the many Hollywood movie stars who call the city home. The library finds itself on the Library Journal's radar because of its multi-faceted, innovative design.
"Surf's up at the Malibu Library, County of Los Angeles Public Library, where the teen space light well is filled with boards and photos of surfers adorn the walls," writes Library Journal Editor Bette-Lee Fox. "This year's library architectural landscape encompasses combination spaces, meticulous renovations and restorations, and innovative thinking in the reuse of existing structures."
According to Fox, the 107 public library capital projects and 19 academic buildings completed between July 1, 2011, and June 30, 2012 present fascinating and functioning responses to library service needs that are shaking up the design waterfront.
"The Malibu Library is a dynamic metamorphosis of what was once a dark, dated, and inefficient space into a light, bright, and sustainable environment that reflects the history and unique nature of this beachfront community," said LPA Senior Designer Rick D'Amato.
With more than 19 libraries under his belt D'Amato's design expertise in civic architecture is well-documented. He also excels in creating designs for corporate environments (Ford Motor Company, Toyota, The Yard House Restaurants, Urban Decay Cosmetics, ASICS America, Blizzard Entertainment, Pacific Dental Services, Mossimo, The La Jolla Group and Volcom, to name a few); no surprise as many of today's libraries incorporate elements inspired by retail savviness. For example, a dramatic wave inside the Malibu Library not only simulates the colors of the sea and falls in-step with the city's brand, but also is made from recycled milk-bottle acrylic panels.
Overall, recycled materials exceed 20 percent of everything in the library and more than 20 percent of these materials were manufactured within a 500-mile radius. The library is on track to receive Leadership in Energy and Environmental Design (LEED) certification from the U.S. Green Building Council.
Sustainable design elements include extensive reuse of interior, non-structural components and materials inspired by a "do less" attitude. Healthy indoor air quality measures were taken both during and after construction. Efficient, indirect and direct lighting fixtures use less power, and daylighting controls optimize energy performance. Low-flow and dual-flush plumbing fixtures reduce the building's water consumption by 35 percent. The library's landscape palette is comprised of drought-tolerant, California natives; a more efficient irrigation system is also in place.
For more information about the County of Los Angeles Public Library's Malibu Library, please visit CoLAPubLib.org/libs/Malibu/.
About LPA Inc.
Founded in 1965, LPA has nearly 200 employees with offices in Irvine, Roseville, and San Diego, Calif. The firm provides services in architecture, sustainability, planning, interior design, landscape architecture, engineering, and graphics. There is no "Sustainability Director," at LPA. Instead, more than 80% of the professionals are LEED accredited, including the Human Resources Director, CFO, and several other support staff. With extensive experience in public and private architecture, LPA designs a diversity of facilities that span from K-12 schools, colleges and universities, to corporate and civic establishments. More than 500 major design awards attest to LPA's commitment to design excellence. For more information, visit LPAinc.com.