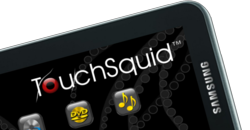 Home theater enthusiasts from around the world can now experience the full power of the Touchsquid remote app on the Samsung Galaxy Note 10.1
(PRWEB) December 29, 2012
The powerful Professional version of the Touchsquid Remote Control App for Samsung Galaxy Note 10.1 is now available in international markets covering Asia-Pacific, Europe, Middle East, Africa and the Middle East.
The Touchsquid remote app works with certain Android tablets that have built-in infrared IR blasters. The Samsung Galaxy Note 10.1 has a built in infrared IR blaster along with four other Samsung products: Samsung Galaxy Tab Plus, Samsung Galaxy Tab 2 7, Samsung Galaxy Tab 2 10 and the Samsung Galaxy Note 10.1. Used with these tablets, the TouchSquid app requires no other hardware.
The Samsung Galaxy Note 10.1 began selling in the international market around August of 2012 and paved the way for the overseas release of the Touchsquid remote app for Samsung.
The Touchsquid remote app for Samsung comes in two versions: the Home and the PRO. The home version of the Touchsquid remote app is limited to four devices in a room. The PRO version handles 10 devices in a single room profile. The number of profiles is unlimited.
The Touchsquid PRO further differs in that it provides comprehensive user definable macros. A macro is a sequence of commands which can perform complex tasks. Macros can be attached to any command including user defined buttons.
The Touchsquid application comes with a database of over 200,000 devices. It can command a wide range of home theater components including lighting, projection systems, monitors, amplifiers, cable and satellite boxes, game consoles and media players of all types.
The PRO remote app is designed to be easy to set up but also comprehensive in function. Unlike some competitors, it does not require any external programs or internet connection for set-up. Screen layouts have usable default settings, but can be edited to add custom buttons and functions, including macros and up to 41 favorites screens allows for up to 984 favorites with icons. Iconharmony.com provides a Touchsquid icon library on their website.
Infrared is line of sight. For situations where theater components are hidden in cabinets or behind walls, the Touchsquid app provides support for external IR blasters such as Global Cache, Keene, and IRTrans.
The Touchsquid Pro Remote Control App for Samsung is available on Google Play and the Amazon App Store. A demo version is available for free download.
About Touchsquid Technology Inc.
Located in Canada. Its flagship product is the TouchSquid all-in-one infrared tv remote control. The company has also developed a number of Android Apps, the most notable being the TouchSquid Remote Control App, for use with generic tablets in combination with an external IR blaster device.