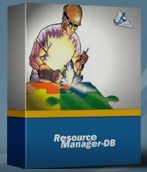 Resource Manager-DB is the only 'off the shelf' production scheduler that is designed to adapt quickly and easily to users best practices. Jim Convis, Product Manager
South Lyon, MI (PRWEB) December 28, 2012
Resource Manager-DB v.2013, features a unique design that quickly and easily adapts to existing operations. The latest release adds advanced production planning and scheduling capabilities normally reserved for offerings costing 10 times as much and taking 5 times as long to implement. Resource Manager-DB v.2013 delivers the benefits of Manufacturing Planning, Scheduling, and Tracking Software without the pain. Resource Manager-DB is the first tool that can be utilized by small companies with no formal systems in place, as well as by larger companies with installed ERP Systems. Resource Manager-DB enables most any operation to immediately improve their planning, scheduling, and tracking capabilities to become more efficient and more competitive.
Resource Manager-DB is the only 'off the shelf' production scheduler that is designed to adapt quickly and easily to users best practices. This enables the customer to become more efficient implementing stragetic processes that fit them perfectly. In the past, the only way to have systems support custom procedures was through extenstive customization. With Resource Manager –DB, the ability to customize in this fashion is built right in with simple options checked.
New ERP and Accounting Integration features have emerged after extensive integration with many popular ERP and Accounting and custom systems. Including: Exact (Macola, Synergy, JobBoss), SoftBrands –Infor (Fourth Shift), SAP Business One, JD Edwards, Sage, Intuit, and more.
New Advanced Planning and Scheduling (APS) Features now included. Resource Manager-DB features: alternate routings, alternate workcenters, automatic optimization, multiple constraints, skill level scheduling, and detailed workcenter calendars that can be adjusted at any time. Now, inevitable labor fluctuations, workcenter downtime, and unexpected material shortages can be immediately accounted for, allowing the user to regenerate a schedule with new priorities - on demand. Real-time Resource Calendar reports include: Load Utilization, Backlogs, Bottleneck Analysis, Capacity Pockets, and more. In addition, a special Dynamic Reconfiguration allows the user to easily and quickly reconfigure scheduled production, on-the-fly, to reflect reality.
In addition to the powerful and flexible finite capacity scheduler, Resource Manager-DB also features Material Requirements Planning (MRP) and Inventory Management and Control. New features for Lean Manufacturing enable Resource Manager-DB to be used by both discrete, process, and mix mode manufacturing enterprises.
Affordable and Compatible
A single user version is $5,000-$10,000. A multi-user version is twice the single user version price. Resource Manager-DB runs with Windows and utilizes Excel for reports. For more information, or for free trial, contact: http://www.UserSolutions.com or call toll free (800) 321-8737.
Company Information
User Solutions, Inc. was founded in 1991 to fulfill the genuine need for lower cost, easy to learn and use software solutions for the manufacturing and operations management markets. Their solutions, driven by direct customer demand, have helped thousands of companies worldwide become more efficient and profitable. For more information, or for free trial, contact: http://www.UserSolutions.com or call toll free (800) 321-8737.