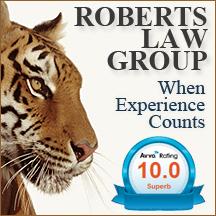 Raleigh, NC (PRWEB) December 28, 2012
Drunk driving defense lawyer Jesse Scharff of Roberts Law Group, PLLC, in Raleigh, obtained the dismissal of a DWI charge after successfully appealing a DWI conviction to the Superior Court. Securing the dismissal meant that the client, who was facing a mandatory minimum of seven days in jail that could extend up to one year, avoided prison time completely.
In North Carolina v. J.O., case number 10CRS059528, the accused drunk driver had been represented by another firm and convicted of driving while impaired at trial in district court. Roberts Law Group, PLLC, was hired to handle her appeal. She already had a prior conviction for DWI on her criminal record and was facing increased penalties for a second offense DWI.
Court documents show that DWI defense lawyer Jesse Scharff was able to successfully challenge the stop that lead to the DWI arrest. Attorney Scharff filed a pretrial motion to dismiss, asserting that the checkpoints were unconstitutional. Upon investigation, Scharff discovered that police had been targeting patrons of a local bar by setting up license checkpoints in the middle of the night; a bar employee who served as a witness confirmed that law enforcement had been targeting the hangout since new owners had taken over.
The Superior Court granted Scharff's motion to dismiss the DWI charges. The Durham County District Attorney's office appealed the dismissal but withdrew its appeal a year later. Sharff was able to use his knowledge and experience to achieve dismissal of the second DWI conviction and keep the accused impaired driver out of prison.
The criminal defense attorneys at Roberts Law Group, PLLC, fight for the rights of the accused throughout North Carolina. With offices in Raleigh, Wilmington and Charlotte, the experienced lawyers of Roberts Law Group, PLLC, offer a free initial consultation to anyone facing criminal charges, including drunk driving, sex offenses, drug crimes, white collar crimes or on other felony or misdemeanor crimes in the North Carolina state or federal criminal justice system.
For more information about the Roberts Law Group, see our criminal defense website and criminal defense blog. Jesse Scharff is a skilled criminal attorney who defends against sex crime charges, DWI charges, assault charges and others in Durham County and the surrounding areas. To contact criminal lawyer Jesse Scharff, please call 866-630-2389 for a free consultation.