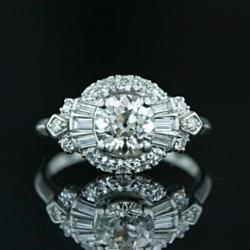 Understandably, you might have spent half your adulthood and perhaps childhood too dreaming of the perfect engagement ring. Be it big and bold or simple and sweet, make it a statement of who you are.
Delray Beach, FL (PRWEB) December 31, 2012
Quality, quality, quality.
The price of a diamond is based on four factors, including its color, cut and carat size . Besides price, however, the other main factor to consider when purchasing a diamond is clarity. Diamonds appear to be clear, but in actuality, very few, if any, are without some tint of color. Flawless means that it reveals no flaws on the surface or internally, and are the rarest and most beautiful gems. Celebrities like Beyoncé and Carrie Underwood don diamonds that carry that description. For the rest of us commoners, flaws will often be removed or concealed from the naked eye when cut by an experienced jeweler. A diamond must be cut in a geometrically precise manner to maximize its brilliance. Be sure to purchase the stone from a reputable jeweler and with a certificate of authenticity.
Express Yourself.
Aviva Samuels of Kiss the Planner says, "Whether you are a standard solitaire-kinda-girl or a bold triliant cut-bride, don't start comparing your ring with anyone else's. An engagement ring is a symbol of a couple's commitment to each other, not a sign of status. Understandably, of course, you might have spent half your adulthood and perhaps childhood too dreaming of the perfect engagement ring. Being that it will soon become a permanent fixture on your left hand, you'll want to you pick the rock that shines in your mind forever. Be it big and bold or simple and sweet, make it a statement of who you are." What are the stars doing to express themselves? Miley Cyrus' antique ring is handcrafted with a diamond floral motif in an art nouveau pattern and Halle Berry's one-of-a-kind emerald engagement ring has a center stone in a yellow-gold setting with codes and symbols that only she can see.
Price talks.
While some people still go by the old "two month's salary" standard, that surely isn't written in stone. Clearly, Beyonce's 18-carat flawless emerald cut center stone set in platinum, had to cost an arm, a leg and several other limbs; most likely out of range for the average Jay-Z. Likewise Jennifer Anniston's 8.9 karat engagement ring and Reese Witherspoon's rare 4 carat Ashoka diamond engagement ring tally upwards of a quarter of a million big ones. Considering the instability of celebrity marriages, however, it's probably safe to say that the price of the ring doesn't have any influence on the happiness or longevity of the marriage. Take for example the 5-carat Edwardian style oval cut solitaire diamond ring that Tom Cruise used to propose to Katie Holmes with, atop the Eiffel Tower.
A Decision Designed for Two.
Maybe Jessica Biel felt comfortable letting Justin Timberlake pick the rock, and maybe Angelina Jolie didn't mind having Brad Pitt design her ring, but not every fiancé is a celebrity fashion trendsetter with a celebrity wallet, either. No one says the exact shape and size need to be revealed, but is a good idea for a man to get at least a hint from his girlfriend before taking that big leap and writing that big check. After all, a diamond is forever, right?
Insure it or Kiss it Goodbye.
Aviva Samuels advises, "insuring your financial investment in the event that it gets lost, stolen or damaged, will be the best decision you ever made, short of picking your betrothed." In addition, it is also important to have jewelry appraised every five years, as the cost of diamonds goes up. If something that was appraised several years ago were to get lost, the insured value would be less than the actual replacement cost. For example, Prince William proposed to Kate Middleton with his late mother Princess Diana's 18-carat oval sapphire ring, which originally cost Prince Charles $65,000, but valued today at over $300,000.
When deciding upon a ring, surely there is a lot to consider. Be it cushion cut, princess cut, emerald cut or marquis cut. Be it oval, round, pear or heart shaped. Be is small or be it grand, be it celebrity-worthy or for just your average Jane, keeping these helpful tips in mind will put a sparkle on her face and a twinkle in his eye.
Aviva Samuels of Kiss the Planner is available to speak with the media about wedding proposal planning, wedding planning, destination weddings, wedding design trends, and more. The company offers an array of extraordinary wedding services, including destination event design, planning and coordination for engagements, weddings and other social events. For more information on Kiss the Planner or to contact Aviva Samuels, go to: http://kisstheplanner.com