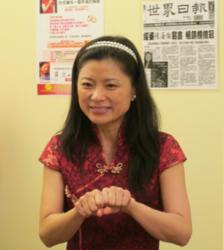 People like to think there is always a 'better person' than the one in front. So at the slightest problem, people think about leaving the relationship.
(PRWEB) December 29, 2012
John Z was a 25-year-old who graduated from college as a communications major and took up a job at a local TV station in Los Angeles where he is currently living. He is typical of the successful college graduate who found a stable job he loved and is collecting a stable income.
However, year after year, he wished for the right girl to marry but with each failure, he concluded that girls were not impressed by his financial status and that he needed to 'make more money' and have a house before any hope of marriage could occur.
That is until he attended a Love and Marriage workshop in Los Angeles that was held in early December by marriage expert and bestselling author Hellen Chen.
"Chen showed me that my approach is totally wrong," said John. "I realized that if I do get a girl that marries me because of my finance, this marriage would be failing right from the beginning."
Janet T is a mother of two children and has been divorced twice. She was involved in an extra-marital affair while married to her first husband. After they were not able to reconcile the differences, she divorced and married another. A few years after her second marriage, Janet divorced a second time.
She is confused and not sure if a happy marriage would ever land on her doorsteps. She came upon Chen's marriage workshop, this time held in Taipei in mid-Dec.
"I was on the road of destruction and decided perhaps there was no second chances for me," said Janet. "After I met Ms Chen, I actually could see where I went off the rails. And with that, she gave me a solution to get back on the right path." She is now working on improving herself to prepare for a better third time.
"I've talked to many men and women and though their stories are different, there is one common denominator," said Chen, un orthodox matchmaker who has helped men and women who had lost faith in relationships. "Given a chance, they would still like to have a happy marriage no matter how heart-broken they have been."
Chen's main profession is the CEO of an international business consulting firm. What started out as an interest to help her single employees find their perfect matches turned into a mission to change sad stories to happier endings. She was called lovingly by the couples she helped as "the matchmaker of the century" because of miraculously finding matches for men and women who had seemed impossible to find one and after their marriage, she would continue to counsel them on how to keep up their marriages and stay out of divorce courts.
"It is a hard task," Chen said. "There are many people who long for a good marriage but the ratio of marriages which made it is very low."
Chen, who has been happily married to her prince charming for 20 years, said that the dating culture and "wait-and-see" attitude of men and women had caused a large part of the failures of relationships.
"People like to think there is always a 'better person' than the one in front," said Chen. "So at the slightest problem, people think about leaving the relationship. That is hurting their chances of ever making it in a relationship because they are only thinking about what others are doing to them, and never what they could do to make the relationship right again."
Chen, who is also a bestselling author, has given over a thousand lectures around the world and shared her marriage tips to both singles and married couples. Her latest bestseller "The Matchmaker of the Century" has become the #1 bestselling marriage book on Barnes and Noble.
As the trend of divorces continued to stay high - for every 2 new marriages in the US, there is one divorce happening - Chen continued her marriage education through hundreds of media interviews and workshops and personally counseling men and women.
Chen has kick-started a "Love You Forever" 2013 campaign to bring marriage awareness to a higher level and she will personally help even more couples tie the knot for the new year.
She is also holding a workshop in Los Angeles on Feb 2nd 2013, before Valentine's Day, on how to create a successful marriage.
More of Chen's workshops information and 'Love You Forever" campaign could be found on http://MatchmakerOfTheCentury.com