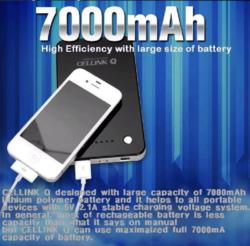 Southlake, Texas (PRWEB) December 31, 2012
The Cellink Q provides in a very small and sleek design, power to significantly charge the iPhone, iPad, Android, Blackberry, Windows and other mobile devices. The 7000 mA of charging power far exceeds that which is required to fully charge all the smartphones, e-readers and tablets. The USB output connector allows the user to charge any device that has a USB power cable, so use is not limited to mobile devices only.
The Cellink family of products provides the user a one stop shop for products that are essential in providing necessary power for those who are in an emergency situation or simply need a small portable power source.
The Cellink Q is manufactured by Egen Inc who is a leading Korean supplier of battery packs for the largest smartphone manufacturer in the world. Egen uses a new generation of Lithium Polymer battery which is safer and more efficient than widely used Lithium Ion battery. The Cellink Q also has a double protection circuit module to prevent over charging and discharging.