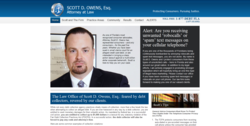 This will hopefully encourage these companies to follow the law when it comes to collecting consumer debt.
SOUTH FLORIDA, (PRWEB) December 28, 2012
December 28, 2012 – Attorney Scott D. Owens of Hallandale Beach is reminding consumers this week that a new ruling allowing the Consumer Federal Protection Bureau (CFPB) to supervise larger consumer debt collectors will be effective January 2, 2013. According to Owens the new ruling, a first at the federal level, adds another layer of fair treatment protection to millions of consumers affected by debt collection.
As the supervising agency overseeing the larger debt collectors, the CFPB has released "field guide" for CFPB examiners to use to ensure that companies and banks engaging in debt collection are following the law.
The consumer debt collection market affected by the CFPB rule includes three main types of debt collection: firms or companies that may buy defaulted debt and collect the proceeds for themselves; firms or companies that may collect defaulted debt owned by another company in exchange for a fee; and debt collection attorneys that collect through litigation.
Owens, a consumer protection attorney who recently conducted a seminar on the Fair Debt Collection Practices Act (FDCPA) on behalf of the National Association of Consumer Advocates (NACA), says the new ruling should boost transparency of the process, which is open to abuse in large part because of the lack of understanding of the entire credit-to-collection progression.
"By expanding supervision to the nonbanks that are larger participants in the consumer debt collection market, the CFPB will now have a clearer view into every stage of the process – from the origination of credit to debt collection," Owens says. "This will hopefully encourage these companies to follow the law when it comes to collecting consumer debt."
Under the CFPB supervision rule, any firm with more than $10 million in annual receipts from consumer debt collection activities will be subject to the agency's supervisory authority. This authority will extend to about 175 debt collectors, which account for more than 60 percent of the industry's annual receipts in the consumer debt collection market.
CFPB examiners will be responsible for assessing potential risks to consumers and determining whether debt collectors are complying with requirements of federal consumer financial law. Additionally, examiners will be evaluating whether debt collectors provide required disclosures to consumers, provide accurate information in their pursuit of consumer debt, provide a consumer complaint and dispute resolution process, and communicate honestly and civilly with consumers.
The CFPB's General Supervisory and Examination Manual offers guidance on how the Bureau will be conducting the monitoring of debt collection activities. Examiners will evaluate the quality of the regulated entity's compliance management systems, review practices to ensure they comply with federal consumer financial law, and identify risks to consumers throughout the debt collection process. The CFPB has issued similar procedures for other companies under its supervision, such as consumer reporting agencies, mortgage originators, mortgage servicers, and payday lenders.
Owens advocates for better understanding of lawful debt collection practices and consumers rights under the Telephone Consumer Protection Act (TCPA) and Fair Debt Collection Practices Act (FDCPA) to help rid themselves of overly aggressive debt collectors, and possibly receive financial compensation for their trouble.
"Consumers are becoming more aware of their rights thanks in part to the internet," Owens says. "Unfortunately, there is also a lot of bad information on the internet as well, so one should at the very least consult with a consumer attorney experienced in federal matters when it comes to enforcing your rights under the FDCPA or TCPA."
For more information on the CFPB ruling, or to find out more about protecting your rights from aggressive debt collectors, call the Law Office of Scott D. Owens, Esq. at 877.332.8352, visit the website at http://www.ScottDOwens.com, or email Scott (at) ScottDOwens (dot) com.
###