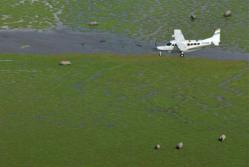 Mombasa, Kenya (PRWEB) December 28, 2012
Early this week Scenic Air Safaris, a tour operator specialized in luxury air safaris, has launched its product video. It features some of the highlights that clients can experience on the eight or twenty-four day luxury air safari across Kenya and Eastern Africa.
The film was mainly shot on location in Amboseli National Park and the Masai Mara, one of the most known game reserves in Africa due to the annual Wildebeest migration. Over the course of four days, the aircraft was equipped with cameras to film the scenery and the wildlife that visitors to Kenya can experience during an aerial scenic safari.
Next year, Scenic Air Safaris will offer a southern circuit that covers Tsavo East, Tsavo West, Amboseli and the Masai Mara and a northern circuit that starts in Nairobi and covers Loisaba, Lake Naivahsa and the Masai Mara. The latter can be extended to Meru and Shaba or combined with the southern circuit. For the first time, the company also offers a twenty-four day luxury air safari aimed at the high-end market to southern Africa covering Tanzania, Mozambique, Zambia, Zimbabwe, Botswana and Malawi.
Scenic Air Safaris, which currently owns two private luxurious aircraft, wants to become the industry leader in customer service. The company founded in 2009 is the first tour operator in Kenya that offers luxury flying safaris and currently operates a number of different air safari tours. Both aircraft are also available for charter flights in Mombasa and Nairobi. It was set up after the owners decided to take their passion for flying and wildlife safaris and create a product that would allow travellers to experience the very same. For more information about the company and their luxury air safaris visit http://www.scenicairsafaris.com.