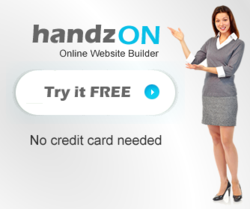 Handzon is a powerful investment opportunity with a strong ROI
(PRWEB) December 31, 2012
Handzon, the software as a service is now actively courting investors for the 2013 new year. After years of Handzon development, the company has designed, developed and deployed one of the most innovative web site builders ever created. Users from all over the world are using the software to design and develop professional web sites with no programming knowledge. Handzon continues the development of the software to include web sites with responsive layouts, which allows all web sites created with the software to adapt to all desktops and mobile devices automatically. Ongoing development is now focused around web site designers, developers and do it yourself businesses to create fully functional mobile web sites and mobile applications for Google play and the Apple apps store.
Handzon will offer a powerful investment opportunity and a solid return on investment because of the residual income model for all of the monthly users that design and create web sites using the software. What makes Handzon special is the innovative web site building experience that also produces fully functional HTML and CSS driven websites with responsive designs for mobile devices.
A free version of the software allows users to experience the software at no charge, giving them the opportunity to not only create a web site, but also sell products online using Paypal. All of the websites build within the Handzon environment require hosting, e-mail, marketing services, mobile services, and shopping carts that are provided exclusively by Handzon. All customers for the Handzon Service are required to host the website within the Handzon hosting environment which allows the customer base to compound on a monthly basis. The potential for income is staggering when any investor takes into account the unparalleled growth of the Internet. There is currently a very exploitable niche for web site designers, white label opportunities with hosting companies, domain name companies and private organizations to not only develop sites, but also mobile applications. The Handzon expansion into the mobile market combined with an easy to use website interface that produces not only a standard web site along with automatic mobile design, but also a fully functional Google play and Apple application. This makes it a gigantic leap above competitors.
A solid investment in the Handzon software
Handzon is Innovative, easy to use software that produces fast, reliable "green" CSS driven HTML pages structured to be crawled very efficiently by search engines. Combined with the power of a responsive layout, allowing every web site to adapt to mobile devices, Handzon is clearly a powerful model for any investor. All funding would focus around marketing the current version of the software along with the development of the new Handzon mobile application designer. A red carpet demo is available at http://www.handzon.com.
For more information and investor questions contact Michael Nieves (415)-320-7483