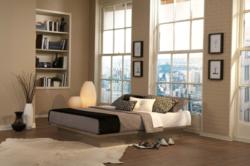 "A home should be a distillation of your interests, of who you really are. If you're happy with your life, your space will reflect that."—Designer Rafael de Cárdenas
Jasper, GA (PRWEB) December 30, 2012
The average person spends one-third of their life in the bedroom. Isn't it important to feel like it is a tranquil place to retire to each evening? TrekBeds helps define 5 easy interior design tips to make every bedroom a restful place to sleep.
Remember The Floor – The bedroom floor is the first thing your feet touch in the morning and last thing before climbing into bed. It is also, all too often, overlooked in creating a put together bedroom décor. The addition of the right rug can make a "splash" statement or be a force that pulls together diverse elements in your décor scheme.
Go Bold – The dramatic and elegant appeal of playing black and white off each other is both timeless and sophisticated in almost any room. They make the perfect canvas to add a splash of bright color to create focal points and some sizzle. Chrome and silver, are beautiful companions for black and white, in part because they offer dimension and luster.
Have Fun With Monotones – Saturating your bedroom with a favorite color can be successful and fun. Use a variety of tones and textures to give your room the depth and charm it would be missing by having only one color to enjoy. Bathing an entire room in one color [especially from the cooler side of the color spectrum] can be surprisingly soothing. Incorporating bright white adds uplifting contrast and freshness.
Neutrals, Softness, And Warmth– Whites, beiges, and grays are perfect for giving your bedroom a timeless, modern feel irrespective of furniture and décor style. The nature of neutral colors is quiet, calm, soothing, sophisticated and warm.
Fill A Lonely Corner With Nature- Nothing softens an empty corner in a big room like a potted tree. Live plants also provide better air quality; some actually remove formaldehyde and benzene from the air. If you are cursed with a brown thumb or can't spare the time to bother with a live plant, the faux trees that are now available are visually worthy substitutes.
With all that said, the best tip of all for enjoying a wonderful bedroom (and this should be #1 on the tips list), is to start by getting enough rest. The boost you will receive from replenishing your energy reserves will give your bedroom atmosphere a boost as well. For more information, please contact TrekBeds at help (at) trekbeds (dot) com.