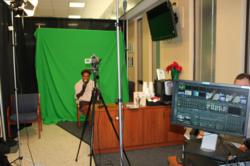 (PRWEB) December 30, 2012
Andrews Federal Credit Union partnered with Operation Best Wishes to sponsor free holiday video messages for service members and their families. The Operation Best Wishes team set up a mobile webcast unit at the Andrews Federal Credit Union branch on Joint Base Andrews (MD) to record greetings to distant service and family members.
Each recorded message was up to 10 minutes long and included updates and words of encouragement. Participants received a CD containing the video, as well as a link for their loved one to access the archived recording via a secured website.
"It's a pleasure to provide such a great service to our members," said Patrice York, Marketing Manager. "We understand the desire for families to be together during the holidays and wanted to do our part to bring them as close as possible."
Organized in 2004, Operation Best Wishes has recorded the messages of thousands of military members, families, and friends at participating credit unions nationwide.
About Andrews Federal Credit Union
Andrews Federal Credit Union was founded in 1948 to serve the needs of military and civilian personnel by providing a vast array of financial products and services. With over $900 million in assets, Andrews Federal has grown to serve nearly 100,000 members in the District of Columbia, Joint Base Andrews (MD), Joint Base McGuire-Dix-Lakehurst (NJ), and military installations in central Germany, Belgium, and the Netherlands. In addition, the Credit Union serves as a financial partner with many select employee groups in Maryland, the District of Columbia, and New Jersey. To learn more about Andrews Federal Credit Union community involvement, products, and services, please visit http://www.andrewsfcu.org.