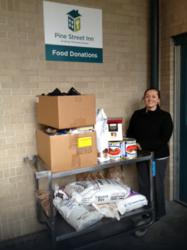 Boston, MA (PRWEB) December 28, 2012
Tekscan® is located in South Boston and employs over 90 employees in the Boston area. Supporting the Pine Street Inn in is one way Tekscan strives to give back to the surrounding community. Since 1969, the Pine Street Inn has fed and sheltered homeless men and women with the ultimate goal of providing stability and compassion. By collecting food, clothing and cash donations from employees and through company sponsorship of the food drive, Tekscan joins with the Pine Street Inn in its fight to end hunger and homelessness.
About Tekscan
Founded in 1987, Tekscan manufactures thin, flexible, tactile pressure and force sensors and measurement systems. Our products range from simple force sensors and force sensing systems to highly complex pressure measurement systems with over 100,000 sensing points. Tekscan's patented FlexiForce sensor technology has been incorporated into many successful OEM products. Our pressure mapping technology is used in Test, Measurement, and R&D applications, saving companies worldwide millions of dollars in design, design verification, and reengineering costs. We also offer systems designed for clinical use, including medical and dental pressure measurement applications.