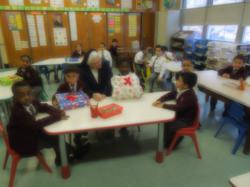 Riverdale, NY (PRWEB) December 28, 2012
Bon Secours New York Health System, Schervier Nursing Care Center, in the Riverdale section of The Bronx, collected more than 200 toys this holiday season through its successful annual Giving Tree, to benefit the children at St. Margaret Mary School in the South Bronx, continuing to provide "good help to those in need."
Toys were donated by Schervier's generous staff members, residents and their families, volunteers and friends, all to spread joy to local families in the South Bronx, one of the neediest areas in the United States. On Wednesday, December 19, 2012, more than 200 holiday-wrapped gifts were delivered to St. Margaret Mary School's principal, Sister Ann Veronica Bivona, for distribution to all the children, ranging from ages three to six.
"Each year, our facility has a large Christmas tree displayed in the lobby, which we call the Giving Tree, and at the start of the holiday season, the tree fills up with red bows, each signifying a child we will be supporting," said Paulette Sansone, Grant Writer at Schervier. "As our most successful Giving Tree to date, we are extremely pleased that our efforts continue to brighten the holidays of so many children."
In addition to providing toys for the children, Schervier Nursing Care Center provided local families with gift cards to a local supermarket, to supplement their holiday meals.
"Providing good help to those is need is the foundation of Schervier," said Gregory Poole-Dayan, Administrator at Schervier. "As the holiday season is a time for giving, we are fortunate to have such compassionate and generous support from our staff, residents and families, and to be able to provide local children a more joyful holiday."
Schervier has helped to support families of St. Margaret Mary School for the past 17 years providing more than 2,700 children with gifts and many families with meals during the holiday season.
For more information on Schervier's annual Giving Tree, or to learn more about Schervier Nursing Care Center and the services it provides, visit http://www.scherviercares.org/ or its Facebook page at https://www.facebook.com/SchervierNursingCareCenter.
About Bon Secours New York Health System
Bon Secours New York Health System is part of Bon Secours Health System Inc., a not-for-profit Catholic health system headquartered in Marriottsville, Md.
Schervier Nursing Care Center is located in the Riverdale section of The Bronx, and is part of Bon Secours New York Health System, whose mission is to bring compassion to health care and to be "good help to those in need." Bon Secours New York's mission is carried out through the services and programs of Schervier Nursing Care Center, Schervier Short-Term Rehabilitation in Riverdale, Schervier Respite Care, Schervier Center for Alzheimer's and Dementia Care, Schervier Home Care, Schervier Cardio/Pulmonary Sub-Acute Care, the Bon Secours Center for Research in Geriatric Care and the Schervier Apartments. Information about Schervier and Bon Secours New York may be obtained from the Admissions Office at 2975 Independence Avenue in Riverdale, by calling (718) 884-5100, and at http://www.scherviercares.org.
# # #