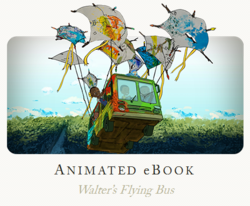 Characters in the story are based upon the real children and their unique personalities...
(PRWEB) December 31, 2012
Born from the hopes and dreams of orphans with special needs in a small orphanage in Uganda, the iPad Animated eBook, "Walter's Flying Bus" was released this month. The storybook app is now available to the public for iPad via the Apple App Store.
The seeds of inspiration for the story began when Michael and Mandy Gallagher, owners of Educational Outfitters Group, adopted a baby girl with Spina Bifida born in Nashville, Tennessee. Mandy later accompanied a married couple to Uganda on their journey to adopt two Ugandan boys. The trip forged a friendship between Mandy and the founder of Ekisa Orphanage – a non-profit organization established to provide a safe, nurturing home for orphaned Ugandan children with disabilities.
Inspired by their experiences the Gallaghers went on to create Chosen & Dearly Loved, an organization working to celebrate the beauty and dignity of every child, specifically of individual orphaned children. Their first animated, interactive iPad App, "Walter's Flying Bus" engages children and families around this exact purpose, disarming viewers and presenting orphans as people to know and love. Working with a Ugandan art therapist, Ekisa and Chosen asked the kids to express their hopes and dreams within their paintings.
In co-operation with Global Virtual Studio based out of Kona, Hawaii, Chosen & Dearly Loved incorporated the children's art and their dreams took flight via the Apple App store. The characters in the story are based upon the real children and their unique personalities. The art of the actual children is featured throughout the eBook.
A global effort, artists and programmers from many countries contributed their skills to make for an enjoyable and dynamic App for the iPad. Soon to be released for the iPhone & other devices, as well.
About Chosen And Dearly Loved, LLC:
As a privately held company, they make the following commitment:
One hundred percent of after-tax profits from App sales go to efforts helping orphans with special needs, including advocacy, care, and adoption assistance grants. For more information visit the official facebook fanpage: http://www.facebook.com/WaltersFlyingBus
Those interested in purchasing the animated app can visit: https://itunes.apple.com/us/app/walters-flying-bus/id582138770?mt=8