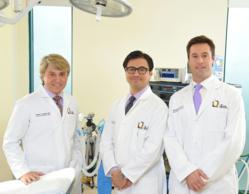 Gluteal augmentation offers patients maximal results with minimal scaring and little to no down time.
- Dr. Christopher Low
Plantation, Florida (PRWEB) December 29, 2012
Take Shape Plastic Surgery in Fort Lauderdale will now be offering gluteal augmentation for patients looking to improve the contour and aesthetic appeal of their buttocks. Plastic Surgeons, Christopher Low MD MS, George Dreszer MD and Russell Sassani MD are now offering free consultations for patients interested in gluteal augmentation in Fort Lauderdale, otherwise known as the "Brazilian Butt Lift".
The procedure was first performed in the late 1960's using breast implants to enhance the buttocks, the results were suboptimal and complication rates were high which led most US plastic surgeons to abandon the procedure. During the next several decades, plastic surgeons in Mexico, Brazil, and other South American countries continued in the search for better procedures and improved implants for gluteal augmentation.
Currently, there are two primary techniques in buttock augmentation, gluteal implants and autologous fat grafting. Creating a more aesthetic female torso requires augmentation of the buttocks and more importantly a reduction of the waist and lower back. Only autologous fat grafting can accomplish these goals. Gluteal implants cannot. During autologous fat grafting, sculpting of the waist and lower back requires aggressive liposuction of the presacral area in order to create the feminine inward sweep of the lower back. This liposuction is routinely done at the time of the autologous fat grafting but should not be routinely done at the same time as the gluteal implants.
Autologous gluteal augmentation is performed on patients desiring a more defined waist and fuller, rounder buttocks. This procedure is done at Take Shape Surgery Center, LLC, and is performed with minimal scars and healing time. The first step in gluteal augmentation is the aggressive liposuction of the hips, lateral thighs, lower back, and abdomen. The liposuction performed in these target areas will improve the shape of the buttock, making it appear rounder and proportionally larger. The harvested fat removed during liposuction is then processed in order to obtain the maximum amount of fat stem cells. Through tiny incisions, the harvested fat cells are then transferred into the upper and lateral buttocks in order to create the greater volume and improved definition.
Take Shape Plastic Surgery in Fort Lauderdale also offers a wide array of cosmetic surgery including facial aesthetic surgery, body contouring, and breast augmentation in South Florida. The clinic is also renowned for the reconstructive surgical work that is offered.
Also on premises is Take Shape Surgery Center, L.L.C., a Medicare-certified, state-licensed and nationally-accredited, ambulatory surgical center. This facilitates a more personalized, convenient and comfortable experience for patients.
Patients can be assured that the plastic surgeons at Take Shape Plastic Surgery in Fort Lauderdale possess the skills, training, and aesthetic eye to ensure that the patient's desired cosmetic result becomes a reality and that reconstruction patients achieve the best possible outcome. For more information please call Take Shape Plastic Surgery P.A. at 954-585-3800 or visit them on the web at http://www.takeshape.info. Take Shape Plastic Surgery P.A. is located at 4161 N.W. 5th Street, Suite 100, Plantation, Florida 33317.