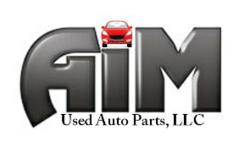 We believe the primary factor was our excellent customer satisfaction record.
Riverview, FL (PRWEB) December 31, 2012
Aim Used Auto Parts Riverview announced record sales figures for November of 2012. The sales increase was over 55% and well above their expectations for the month. When asked what might be the reason for such a significant jump, co-owner Alexandria Ayres mentioned:
"We believe the primary factor was our excellent customer satisfaction record. Most people that purchase used auto parts are very apprehensive and are concerned about the quality of the part or complete engine. We have completely eliminated that concern by offering a full 90 day warranty, which is well above industry standards for used auto parts warranties. Our customers have responded very positively to this and continue to refer us to their friends, thus increasing sales each month."
"We also have a large selection of auto parts available for several auto makes and models. With such a large inventory at hand, we have experienced a significant amount of add on sales. A customer may be calling specifically for an engine, but by the end of the call, add on the transmission at a low price. Additionally, we have recognized the engines that have the highest demand and are making an effort to always have them in stock."
"We have also set selling standards with our sales team. They are not only educated on product knowledge; but also about the company mission, values and how AIM wants our customers to perceive us. This knowledge has increased our customer satisfaction, simultaneously increasing customer referrals and repeat business."
With increased sales comes a demand for increased productivity in all other departments; purchasing, shipping, and the salvage yard floor. AIM has staffed the salvage yard floor with additional help to stock their inventory and prepare the auto parts to be shipped.
"Growth momentum at AIM Used Auto Parts continues to be strong. These are certainly exciting times for us."