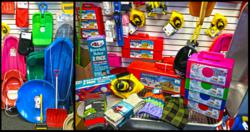 Elma, New York (PRWEB) December 29, 2012
This Christmas week brought family, friends and a lot of snow. The Western New York area is no stranger to the snow but to help get consumers through the winter months, the Made In America Store has a special sale. Anyone that stops by the Elma, New York location and purchases a shovel, gloves or any other winter product will receive 10% off their entire purchase.
100% US made products in one location, the Made In America Store.
The Made In America Store brings over 3,000 different products, all of which are 100% US made. With Western New York getting over 15 inches of snow and the end of the year approaching, the all American made store is putting their entire stock on sale to make room for newer products of 2013.
Consumers can visit the Made In America Store located on 900 Maple Road in Elma, New York December 29th, 30th and 31st to get the 10% discount with a purchase of a winter product.
With the "Made in America" movement in full motion, consumers from all over the nation have been looking for American made products. Consumers look for US made products for their quality and reassurance that their purchases do in fact help the US economy. The Made In America Store has brought over 320 vendors and over 3,000 different products that are all 100% US manufactured. Each vendor needs to produce a letter of authenticity, which states each component used to produce the products and where they were made.
The Made In America Store is the only brick and mortar store that sells 100% made in the United States products from over 350 vendors. Consumers can visit http://www.MadeInAmericaStore.com or call 716-652-4872 to get more information or shop our catalog of over 3,500 items. Both Active Duty Military Personnel and U.S. Military Veterans receive a 10% discount every day. Followers of the "Made In America" movement can keep updated with the Made In America Store through Facebook, Twitter, Google+, Pinterest, FourSquare and even their own blog on Wordpress!