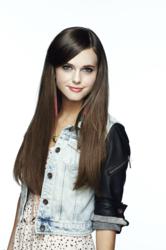 Palmdale, CA (PRWEB) December 28, 2012
Independent singer/songwriter, Tiffany Alvord, earned the breakout opportunity of a lifetime as the winner of Nivea's first ever competition celebrating aspiring musical talent. As the winner of Nivea's "This Kiss" video competition, she will join a lineup of some of America's biggest stars performing in NYC's Times Square during ABC's "New Year's Rockin' Eve."
"I am so excited for the opportunity to perform in Times Square on New Year's Eve!" says Tiffany, who's been dreaming of her big break for as long as she can remember. "Huge thanks to Nivea, my amazing fans, and everyone who watched my video. Dreams really can come true, and I feel so blessed to have come this far."
Tiffany's rendition of the hit pop song, "This Kiss," by Carly Rae Jepsen, received the most number of online views among all nine participants in the contest, earning her one of the most coveted musical gigs for rising stars and chart toppers alike. She will also sing her original song, "My Heart Is," in addition to "This Kiss." She is scheduled to perform at 10:02 p.m. EST.
A native of Palmdale, Calif., Tiffany Alvord is a singer/songwriter who is quickly gaining well-deserved attention as a YouTube sensation. She learned how to play the piano at age six, began writing her own music at 10, and taught herself how to play guitar at age 12. Tiffany started posting cover songs and original songs on YouTube in April of 2008 at the age of 15. She has since released two albums, My Dream and My Heart Is.
Today, Tiffany has over one million subscribers and a worldwide fan base. She enjoys nearly 255 million video views, 550,000+ Facebook fans, and 200,000+ Twitter followers. Tiffany's YouTube channel is among the top 50 most subscribed music channels.
To see Tiffany's winning music video, visit http://youtu.be/kCZyuRmu4rk. Also, check out Tiffany's YouTube channel at YouTube.com/TiffanyAlvord, and learn more about Tiffany by visiting her website at http://www.tiffanyalvord.com/. For more information about the Nivea Kiss Stage and a full NYE schedule of events, visit https://www.facebook.com/NIVEAusa/app_235747909885807. Tiffany is available for interviews for a limited time leading up to her New Year's Eve performance, and she has some availability while in New York. Contact Cherie Alvord for more information or interview requests.
###