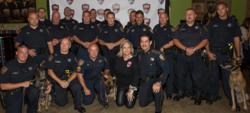 "The grant will be used toward the purchase of a K-9 for a law enforcement agency in need." -- Liz Lara-Carreno, Executive Director
Houston, TX (PRWEB) December 29, 2012
K9s4COPs, a finalist in the Hero Dog Awards, is the recipient of a charity partner grant for $5,000 from the American Humane Association. The Hero Dog Awards, which was held October 6th in Beverly Hills, California, was created by the American Humane Association to celebrate the devoted relationship between dogs and people. K9s4COPs was nominated by K-9 partner Jynx and the family of deceased Berks County Deputy Sheriff, Kyle Pagerly.
Executive Director Liz Lara-Carreno stated, "We are thrilled to have been part of this select group of finalists. The grant will be used toward the purchase of a K-9 for a law enforcement agency in need and will be named during K9s4COPs K-9 Roll Call in January 2013."
Founded in 2010 by Kristi Schiller, K9s4COPs' mission is to place highly trained K-9s with thoroughly screened law enforcement agencies across the United States that are facing budget cuts. At an average cost between $10,000 and $15,000 each, financial constraints make it virtually impossible for them to purchase K-9s. To date, K9s4COPs has placed 25 K-9s in Texas and across the United States, and applications continue to pour in.
For more information on K9s4COPs or to donate funds, please visit http://www.k9s4cops.org.