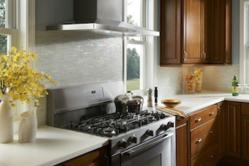 Iridescent glass tiles are able to make kitchen spaces more appealing to guests by complementing whatever color scheme exists beforehand
Miami, FL (PRWEB) December 28, 2012
Mineral Tiles, a top online distributor of tiles and provider of tile design services, now has a collection of Iridescent Glass Tiles available on its website. Suitable for both kitchen and bathroom backsplashes as well as swimming pools, the new collection comes in a wide variety of patterns and palettes, the better to ensure that any design or theme can be made possible.
According to Mineral Tiles, their Iridescent Glass Tiles are an ideal choice for builders searching for a glass tile for backsplash areas, typically the shower or bathroom and kitchen area. These areas are among the select sites in the home where it is possible to strategically combine two tile colors to produce a unique and aesthetically pleasing style of glass wall tile. The kitchen in particular, is where Mineral Tiles believes their iridescent glass tiles will create the most benefit, as they have the ability to greatly enhance the kitchen's ambience and encourage interaction through the vigor they add to the area. The company points out that iridescent glass tiles are able to make kitchen spaces more appealing to guests by complementing whatever color scheme exists beforehand.
Another area where Mineral Tiles' new collection can be used is the swimming pool. Iridescent glass tiles for pool applications are an ideal way to beautify this area of the household where people interact with guests and relax. Besides being suitable for use along the waterline, the iridescent glass tiles are also recommended for use along the pool's stairs, as they create a beautiful effect by reflecting both water and sunlight. Mineral Tiles recommends this new collection or adding a touch of class and charm to the pool area, delighting guests and swimmers alike.
About Mineral Tiles
Founded in 2006, Mineral Tiles deviates from the typical business model used by similar companies in the country. Rather than operate from a physical store and showroom and housing a full staff of employees, the company operates exclusively online, displaying their full range of products on their website, which visitors can browse through in the comfort of their homes. To select a tile product, users on the website simply click on the shop button to make a purchase.
By dispensing with the physical showroom and store, Mineral Tiles is able to lower the prices of their tile collections including all backsplash mosaic tiles, and ensure low shipping costs for orders, giving customers more value for their money when compared to traditional brick and mortar tile suppliers. As a way of addressing concerns about customer service and support, Mineral Tiles offers round-the-clock email and phone support, guaranteeing that company representatives are just a mouse click away.
To compensate for the fact that users are unable to examine the tiles themselves as they would in a showroom, Mineral Tiles offers a Sample Program, wherein customers can order samples of a tile product before making the final purchase. The company also offers tile design services for customers desiring assistance with wall and backsplash designs.