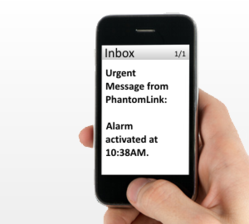 The easiest solution for do-it-yourself alarm monitoring.
Albuquerque, NM (PRWEB) December 29, 2012
PhantomLink is pleased to announce the release of a new video demonstrating its PhantomLink Direct project. This simple and inexpensive retrofit allows nearly any security system to be monitored from the cloud. The video, posted at http://www.phantomlink.com/directdetails.aspx, shows the entire installation process, which takes only a few minutes.
PhantomLink Direct is designed to breathe new life into unmonitored alarm systems. All it requires is an existing alarm system and a PC with internet access. PhantomLink Direct links an existing security system to the internet. If an alarm signal is detected, PhantomLink servers immediately send an email or text message to the user. Users can log into a web-based "dashboard" to see timelines of alarms events, and real-time webcam video (optional).
"PhantomLink Direct is the easiest solution for do-it-yourself alarm monitoring," says Adam Peters, the company's founder. "There are no extra costs other than a simple cable, which anyone can build for $25. That's less than most people pay for a single month of monitoring services."
Technical details and installation instructions for this self-monitored security system solution can be found on the PhantomLink webpage. Do-it-yourself alarm installers and electronics hobbyists are encouraged to participate in this project to develop and expand the capabilities of this technology.
PhantomLink.com was developed by and is operated by Phantom Data Services, LLC, a New Mexico limited liability company specializing in advanced website development and web-enabled technologies. Visit http://www.phantomlink.com for more information.