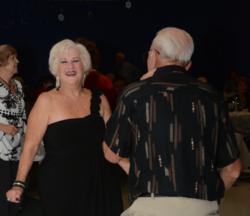 Sunny Isles Beach, Florida (PRWEB) December 31, 2012
On Saturday, December 15, the City of Sunny Isles Beach hosted the annual Holiday Ball at Pelican Community Park (18115 North Bay Road). More than one hundred residents joined together for a traditional evening of dinner and dancing.
This year's Holiday Ball featured a fine art presentation from local artist and Sunny Isles Beach resident, Beatriz Alcantara. Guests were pleasantly surprised when they were greeted upon arrival in the pre-dinner lounge by the artist and an exhibition of her paintings. Alcantara's art portrays the culture and history of the Peruvian people. Painted using a unique technique of fine-pointed brush with acrylics, all the paintings were captivating and vibrant. The guests had a chance to get acquainted with this neighbor and learn about her Peruvian background.
After passing through the art exhibit, guests entered the main room which was transformed into a festive, yet elegant, setting for a night of celebrating. Royal blue drapes festooned with white snowflakes inspired the guests to be in a holiday mood. Friends and neighbors enjoyed dining, dancing, winning raffle prizes, meeting new people, chatting and laughing throughout the evening. The food was fresh and plentiful! For the main course, a local Italian restaurant, 'Mario-The-Baker', provided a buffet of delicious meatballs, chicken parmesan, pasta with vegetables, salad, meat lasagna, garlic rolls, and Sangria. Vanilla and lemon cake and coffee were served for dessert.
The musical theme, 'Dancing through the Decades' was performed by everybody's favorite, David Morin. The popular hits of past decades had guests on their feet dancing and singing along, all evening long. The crowd stayed until the very end and on their way out, thanked the staff profusely for the wonderful time. Everyone went home smiling and happy.
On behalf of Cultural & Community Services Department we invite everybody to attend the next dinner dance, the Spring Fling, scheduled for March 9, 2013. For more information on this and other special events, visit http://www.sibfl.net or contact Cultural & Community Services at 305.792.1706.