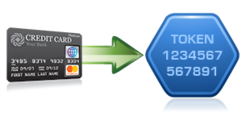 Newark, Delaware (PRWEB) December 30, 2012
Host Merchant Services now offers the most secure form of data storage for payment information, called tokenization. Tokenization is one of the many features of the HMS Express platform offered by Host Merchant Services.
What is Tokenization?
Tokenization is the process of taking sensitive data as input such as credit or debit card numbers and returning a "token" that represents that sensitive data as output. The token is typically made up of upper- and lower-case alphabetic, numeric and special characters depending on the algorithm used to encrypt the data, and it typically has no relationship with the sensitive information it replaces. The provider stores the encrypted data in a PCI Compliant and secure database "in the cloud." The merchant stores the token, which is a unique pointer to that data but has no means to decrypt it. So a card can be stored securely and referred to for processing a transaction, but the data cannot be stolen or decrypted with only the token. If a hacker steals tokens, they are useless because they do not contain any meaningful cardholder data. The concept behind tokenization is remarkably simple: Data thieves can't steal what isn't there.
Payment Processing Applications
In credit card processing, information can be tokenized when a card is swiped at the merchant's point of sale (POS) system or when payment details are entered into a virtual terminal. Once a system has the cardholder data, it is passed to the credit card networks for authorization. After being authorized, a token is randomly generated that is passed back to the merchant, and stored in place of the customers credit card numbers. This process increases a merchants base level of security, and can help them avoid costly data breaches.
Benefits of Tokenization
Tokenization is useful for merchants who need access to sensitive information, but do not want to store that sensitive information themselves. The process allows the data to be stored by Host Merchant Services; the PCI-DSS certified merchant gateway provider rather than being stored by the merchant. One feature that tokenization can provide is the ability to process recurring transactions without the risk of storing card numbers locally. On a recurring transaction, the merchant passes the token back to the processor and the processor then looks up the token and generates a transaction based on the cardholder data associated with that token.
This process benefits many different industries such as web hosting companies or fitness centers that bill customers a set amount each month, and want to avoid the risk of storing large amounts of payment information. Many merchant services companies are still not PCI compliant and store their customers payment information in plain text that can be easily exploited. Some other features of tokenization include the ability to analyze card usage and generate unique token values for each customer. This allows for useful features such as fraud protection and loyalty programs.
In Conclusion
The process provides undecipherable, unique tokens for each transaction. Merchants store the token, not the card number and the tokens can be used for future transactions as well as returns or refunds. The system allows merchants to reduce their scope of PCI Compliance, and lessens the burden of transmitting, processing and storing payment data.
Host Merchant Services seamlessly integrates the payment gateway and it's many features with any software, giving merchants the ability to outsource their payment acceptance and the associated risk. To find out what tokenization can do for your business, contact us now. Visit Host Merchant Service's PCI Compliance Initiative for more information on payment processing security.
About Host Merchant Services
Host Merchant Services provides complete financial transaction services solutions for your business. HMS offers innovative solutions in payment processing, including e-commerce, wireless, virtual terminals, retail, restaurant, and many other services custom tailored to the needs of your business. Host guarantees unsurpassed pricing, support, and customer service. Reliable payment processing is critical to your business and HMS is a partner you can trust to deliver. Let the technology, security, and payment-processing experts at Host Merchant Services help your business prosper.
For more about Host Merchant Services, please visit: http://www.hostmerchantservices.com