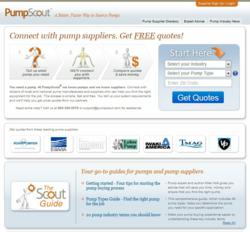 PumpScout is clearly the future for industrial pump manufacturers wanting to promote their brands and generate high value leads.
Tacoma, Wash. (PRWEB) December 28, 2012
PumpScout is now bringing its innovative pump quote and sales lead system to Europe, after generating tremendous interest among North American pump manufacturers.
The company recently partnered with ESE Europe, a European pump distributor based in the Netherlands. ESE President Tom Clark will lead the initiative to introduce the PumpScout service to pump manufacturers throughout Europe and Asia.
"We are gaining a lot of momentum in the U.S. and as a result other international companies are asking to work with us," says PumpScout CEO Justin Johnson. "Our strategic partnership with ESE provides us with a local presence in Europe, and will help us foster new relationships with companies there."
PumpScout provides a new way for pump manufacturers to obtain highly qualified, targeted, real-time sales leads for the products they sell. The company's web service connects pump buyers with right pump suppliers to get price quotes.
The start-up has already secured 15 North American pump manufacturers in the past three months including industry leaders Patterson Pump, EBARA, Ruhpumpen, Wilden Pump, Blackmer and Iwaki-America. These companies offer a wide range of pump types to fit any application.
Clark, with ESE Europe, says that the PumpScout service is fast becoming the standard for pump manufacturers to generate more business. The service model gives manufacturers an incredible ROI and allows them to easily measure the performance of the program.
"PumpScout.com is clearly the future for industrial pump manufacturers wanting to promote their brands online in a global marketplace," Clark says. "The site provides the highest quality sales leads to manufacturers and helps sell more pumps, regardless of where your company is located."
PumpScout.com plans to implement metric units to its online quote system, and offer its services and contents in multiple languages including German, Spanish, French, and Italian as well as Japanese and Chinese.
"We're excited to extend our service outside of North America. We've proven our model of driving high quality leads for industrial pump manufacturers in the US, and we are confident we can help our new global customers grow their businesses as well," Johnson says.
About PumpScout
PumpScout is an innovative web service offering pump buyers a better, faster way to source pumps. The service allows buyers to enter their pumping system requirements and get quotes from the right pump suppliers for their project. PumpScout.com also features pump expert advice, tools and tips on buying and maintaining all kinds of industrial pumps, and industry news.
For pump manufacturers and suppliers, PumpScout offers a service to generate high value leads and increase sales.
For more information, visit PumpScout.com.