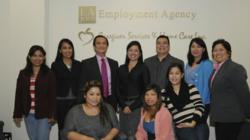 " Together, Let's all get Better... Soaring High for Year 2013 !"
Los Angeles California (PRWEB) December 28, 2012
The First Annual IMAGE AWARDS to be held on 4th of January 2013, will be shot live and aired as a TV Special on LA-18. The event will be the first TV Special in Southern California that will feature and honor the Legends, Icons, Leaders and Luminaries of the Filipino-American community in Los Angeles.
The IMAGE AWARDS is an Awards Night Gala and a red-carpet event that will be attended by honorable awardees and guests at the famed Hollywood landmark Florentine Gardens., Hollywood's Longest Running Club. CEO Belina Calderon will be honored one of the awardees as Luminaries in Fashion and Look and a respectable Business Leader who heads group of 3 companies: L.A. Jobs Employment Agency, http://www.lajobsusa.com, one of the leaders in the staffing and employment services operating for more than 12 years and Caregiver Services and Home Care Inc., http://www.mycaregiverservices.com, one of the fastest growing In-home care services operating on its 10th year and member of reputable associations and the third company Summit Medical Billing, engaged in helping the medical and health care companies in their billing processes.
This group of three companies is committed to its Vision, Mission, Core Values and Service Philosophy that will strongly bring the whole group to greater heights in the coming years. The strong Management Team equipped with Executive and Managerial experience for several years has been trained in USA and other international countries which enable the company to sustain respectable business growth, organizational development and financial stability for the past years.