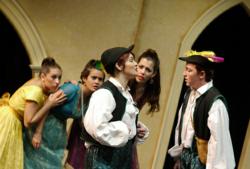 Sunny Isles Beach, Florida (PRWEB) December 31, 2012
In January 2013, the City of Sunny Isles Beach offers musical theatre entertainment and the chance to meet the author of a book written about the history of nearby Haulover Inlet! Additionally, those interested in cinema can take advantage of multiple chances to view films around the City this month.
The third installment of the Four Seasons Cultural Series will be held on Saturday, January 19 at 7:00 pm in the Norman S. Edelcup SIB K-8 School (201 - 182 Drive). Prior to the performance, a special book signing will take place. Author Martha Saconchik-Pytel will have copies of "Baker's Haulover – A Maritime Treasure of History and Pioneers" available. Take this opportunity to meet the author and pick up a copy of the history of the area.
Following the book signing, sit back and take in an amazing performance of musical theatre scenes by talented students enrolled in the Music Department of Florida International University. Sunny Isles Beach Resident ID holders may enter at no charge, all others $5.00. Tickets will be available at the door or can be purchased ahead of time at the Visitor Center or Pelican Community Park.
Other opportunities exist for residents and guests to get out and enjoy the community. Parents looking for a family activity early in the month can bring the little ones out for a G-rated film under the stars at Family Movie Nights. Bring the blankets and chairs or rent a blanket for the January 4th film at Heritage Park (19200 Collins Avenue) or the January 5th movie at Town Center Park (17200 Collins Avenue). Fun interactive entertainment for the kids begins at 7pm, with the movie beginning promptly at 7:30pm, both nights.
The City also hosts movies for adults and active seniors, looking for an opportunity to meet friends and neighbors, and socialize. Every other month, residents and guests can enjoy a classic movie shown on the big screen at Pelican Community Park (18115 North Bay Road). The next Golden Era Movie will be held on Tuesday, January 8 at 10:00 am. Holders of the Resident ID Card will enjoy a complimentary lunch after the movie; all others must pay $5.00. Call 305.792.1706 to reserve your seat.
Check out the quarterly Calendar of Programs and Events available via our website, http://www.sibfl.net, for more information about activities and programs offered in this beautiful beachside community.