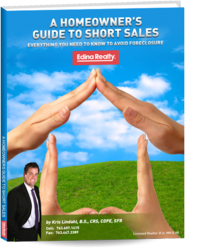 It's a goal of mine to relay the knowledge and information that I have to the general public
Blaine, MN (PRWEB) December 28, 2012
Kris Lindahl, an experienced Edina Realty agent, will be hosting a short sale strategies meeting in Corcoran, MN over the weekend. Lindahl is expected to go through the short sale process step by step and take questions regarding specific banks and lenders. The strategies involved in the process, Kris Lindahl will explain, first involve finding the right agent.
Lindahl will also explain what the right time frame is for a short sale and how to give yourself an adequate amount of time before foreclosure sets in. "I expect to be in Corcoran on Saturday afternoon," Kris Lindahl said, and continued, "It's a goal of mine to relay the knowledge and information that I have to the general public."
The scheduled Corcoran meeting is part of a larger project to travel the Twin Cities and give the general public the information available to real estate agents. "To be prepared for something like a short sale process is a privilege every citizen deserves," Kris Lindahl said, and continued, "being unprepared is terrifying and I guarantee that with me as your agent you will be prepared."
Call Kris Lindahl for more information at (763) 607-1415. Visit the Minnesota Short Sale Calculator website to check eligibility. Download a complimentary copy of the eBook "A Homeowner's Guide To Short Sales" and check out the video series on YouTube.