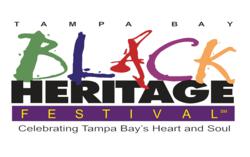 Tampa, FL (PRWEB) December 28, 2012
The 13th Annual Tampa Bay Black Heritage Festival takes place in Tampa, Fla., Jan. 17-26, 2013. The festival celebrates Tampa Bay's rich African-American history.The 10-day festival features succulent local cuisine, hand-made, one- of-a-kind ethnic collectibles and crafts as well as African American exhibits, culturally-focused lectures, a street festival and much more!
Festival highlights include: The Heritage Movie Night features Dr. Calvin Morris, the associate director and national coordinator of the Southern Christian Leadership Conference's Operation Breadbasket (the Rainbow/PUSH Coalition) at the Tampa Theatre; The Heritage Gala features Stogie Kenyetta and is held at the Straz Performing Arts Center; The 2-Day Heritage Street Festival includes the sounds of Con Funk Shun; Klymaxx, Eric Darius, Paige in Full, DeAndre Brackensick and Nathan Mitchell and is held at Curtis Hixon Park; the Heritage Leadership Luncheon hosted by Dr. Shirley Sherrod at the University Community Center; The 7th Annual Heritage Golf Classic Fundraiser held at Quail Hollow Golf Course and the Heritage Living Exhibit featuring Harry and Harriett Moore.
Many festival events are FREE to the public and require pre-registration on the official Tampa Bay Black Heritage Festival website (http://www.tampablackheritage.org). An overview of the festival's signature events include:

Jan. 16th | University Lecture Series with Herm Edwards | USF Marshall Center Ballroom | Featuring Herm Edwards.
Jan. 18th | Heritage Gala | David A. Straz, Jr. Center for the Performing Arts | 6:30-9:30pm | Featuring Stogie Kenyatta as "Paul Robeson" and hosted by Fox 13 anchor, Denise White.
Jan. 19th | Old School Saturday | Curtis Hixon Park | Featuring performance by Con Funk Shun, Klymaxx and Deandre Brackensick, along with delicious food & merchandise vendors and "unique" Villages.
Jan. 20th | Gospel-Jazz Sunday | Curtis Hixon Park | Featuring performances by Eric Darius and Nathan Mitchell along with many talented live performing artists and groups.
Jan. 21st | 7th Annual Heritage Golf Classic Fundraiser | Quail Hollow Golf Course | 8:30 a.m. | Join us for fun afternoon of golf. All funds raised go towards the Festival's scholarship fund.
Jan. 22nd | Heritage Living History Exhibit |Kotler Art Gallery | 7-9 p.m. | Featuring Harry and Harriett Moore and their pioneering civil rights efforts.
Jan. 23rd | Heritage Leadership Luncheon | University Area Community Development Center | 11:30 a.m.-1:30 p.m. | Featuring Dr. Shirley Sherrod leading a discussion on local and national current events.
Jan. 24th | Tampa Theatre Night | Tampa Theatre | 6:30-9:30 p.m. | Featuring Dr. Calvin Sylvester Morris for a viewing and discussion of "The Barber of Birmingham: Foot Soldier of the Civil Rights Movement."
The Tampa Bay Black Heritage Festival is central Florida's premier celebration of African American heritage and was voted as one of the Top 20 events in the Southeast by the Southeast Tourism Society.
Please join us for these exciting and historical events as we celebrate the heart and soul of Tampa Bay. For more information about Tampa Bay Black Heritage Festival and a full list of events visit the website at Tampablackheritage.org, Facebook.com/TBBHF or contact William Sanders at 888.224.1733 or 813. 525.2539.
About The Tampa Bay Black Heritage Festival
The Tampa Bay Black Heritage Festival is a ten-day cultural event that features speakers, musicians, artists, poets and craftspeople locally and nationally. The Festival takes place January 17-26, 2013 in Tampa Bay. Festival activities occur during the Dr. Martin Luther King, Jr. holiday weekend. Each day of this ten-day experience provides both children and adults with an opportunity to increase their awareness of African and African-American culture and history. This event promotes diversity and cultural sensitivity within the Tampa Bay area community.