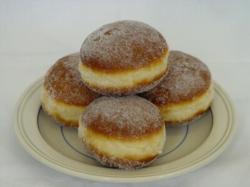 From sloppy subtitling to snack food snafus, this year's top four mistakes offer a look at what can go wrong when you're dealing in a foreign language.
New York, NY (PRWEB) December 28, 2012
Translation blunders can be embarrassing, costly – and hilarious!
Accredited Language Services, a US-based translation company, celebrates the Fourth Annual Jelly Donut Awards to recognize notable errors in translation, interpreting, and localization throughout 2012. From sloppy subtitling to snack food snafus, this year's top four mistakes offer a look at what can go wrong when you're dealing in a foreign language.
Established in 2009, The Jelly Donut Awards were inspired by President John F. Kennedy's infamous pronouncement "Ich bin ein Berliner," or "I am a jelly donut." Even though President Kennedy's statement didn't really refer to a donut, the episode has entered translation folklore.
Whether you are sharing a joke with an overseas colleague or localizing an email marketing campaign, be aware of your language and audience – avoid making the Jelly Donut Awards in 2013!
4) Korean Air makes a "primitive" error
A mistake in translation from Korean to English led to an inadvertent insult when Korean Air, announcing flights from Korea to Kenya, described Kenyans as people full of "primitive energy." Kenyans expressed their anger at being called "primitive" on outlets such as Twitter and Facebook.
Some questioned whether the error was a marketing gimmick on the part of the airline, to let everyone know that Korean Air was now flying to Kenya. The airline's head of public relations admitted it was a mistranslation.
3) The BBC's accidental comedy in Israel
The British comedy "Episodes" doesn't even air in Israel, but it became famous there for the results of plugging the phrase "dearly missed" into Google Translate.
In an episode where a lead character attends the funeral of his father, the gravestone is inscribed in English and Hebrew. Not only is the entire Hebrew inscription written backwards – Hebrew runs from right to left – but it states that the deceased has been "pickled at great expense."
2) A Son named Phrase Whore
A program on the BBC displayed the comic failure of unprofessional subtitles. A father is talking admiringly about his children – "two lovely little boys."
The subtitle department must have missed his affectionate tone, as the subtitles go on to say "Oliver, who is 11, and phrase whore is 10." A Tweeter caught the error, saying "Dear BBC Subtitle Department, I really don't think this is what he named his son."
1) Unusual Kraft Snacks in Russia
Kraft chose the name Mondelez International for its global snack spinoff. Perhaps if Kraft had hired a professional localization agency, it would have known that Mondelez, pronounced "mohn-dah-LEEZ", sounds dangerously close to the Russian term for an oral sex act.
A reader caught the slip and alerted a Chicago business publication. The publication consulted several Russian speakers, who agreed that Kraft was advertising more than it intended.
Accredited Language Services extends congratulations this year's winners, who reminded us of the importance of quality translation and localization. Professional, accurate translation services like those provided by Accredited Language Services can help anyone avoid receiving their own Jelly Donut Award in 2013.
About Accredited Language Services:
Accredited Language Services has provided translation, transcription, interpreting, conference and multimedia services for more than 25 years. Fortune 500 companies, technology firms, advertising agencies, government offices, hospitals, banks, law firms and private individuals rely on the professional language solutions from ALS in 150+ languages and dialects.