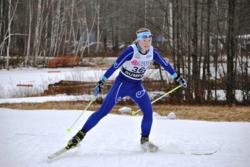 This watch is thin, light, easy to use and we think will be a big hit as word gets around.
Bozerman, MT (PRWEB) December 29, 2012
The new Polar RC3 is definitely worthy of consideration as a GPS heart rate monitor for running, cycling, Nordic skiing and many other outdoor sports according to the Heart Rate Watch Company.
"Our chief tester John Yarington loved the product and now we have elite Nordic skier Brandy Stewart out testing the product in international competition", says Rusty Squire, President of the Heart Rate Watch Company. He adds "This watch is thin, light, and easy to use, so we think will be a big hit as word gets around".
The Polar RC3 is rated by Polar as a product for improving fitness and it is Polar's first ever integrated GPS watch with heart rate, so this is a foray into integrated GPS unlike Polar's previous models with external sensors. "While it does not have all the Race pace features of the Polar RCX5 it is still an impressive GPS watch", says Squire. He adds, " The thin profile and light weight are what distinguish it from all the other watches".
Although some reviewers have criticized Polar's Personal Training software, chief tester John Yarington likes it a great deal because it is easy to use and the information is easily usable. Yarington felt the Polar RC3 GPS watch was a great development and is looking forward to more integrated Polar GPS watches in the future.
For the time being the price point of the Polar RC3 in the $260 range is very attractive because most of the competing products that can be used for sports outside of running, like cycling, are at a higher price point unless they are old technology on a closeout sale.
"Beware of old technology", says Squire. He adds, "Most of these companies closeout mass quantities of these items at the Big Box stores at a low price because they are trying to get rid of product that they now feel has become inferior - the old adage you get what you pay for needs consideration here".
Elite Nordic skier Brandy Stewart was excited to try the Polar RC3 and will hopefully have it on her wrist as she defends her podium finish at this year's Birkebeiner in Cable, Wisconsin.