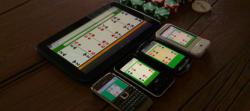 (PRWEB) December 29, 2012
On Dec. 1st the new website http://www.pokereve.com was launched. Lucian Depold, Dipl.Inf., offers a new and modern way of playing Texas Hold'em to poker-fans.
The advantages are plain to see:
Pokereve replaces the usual playing cards with mobile devices, i.e. the cards are shown on displays. Thus you don't have to waste time shuffling and dealing the cards any longer: Pokereve does it in an instant using an extremely fast Mersenne-Twister-algorithm - well known for creating high quality sequences of random numbers. Especially when playing Texas Hold'em home games with a small number of players Pokereve will prove being a real benefit. You can play up to 70% more hands than in a usual home game.
Pokereve may be used free of charge by everyone. It is compatible with almost all kinds of mobile devices, including Android, iOS, Symbian, Blackberry OS and Windows tablets and smart phones. Compatibility is ensured as Pokereve runs in the browser of all devices. Therefore, of course, the device must be connected to the internet. Nevertheless Pokereve is akin to a conventional app due to optimized loading time and dynamic rendering that adjusts the card's size to the available screen size. This browser-based approach was chosen deliberately as to support a wide variety of new and older devices.
More information on how to set up a home game:
Pokereve Website: http://pokereve.com
Demo video on Youtube: http://www.youtube.com/watch?v=35ad7CN85QU