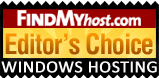 With our Windows Hosting it's easier than ever to launch a professional, enterprise-class Web site. Webhosting.net
Miami, FL (PRWEB) December 31, 2012
Webhosting.net accepts top honors from FindMyHost, Inc., a web host review – consumer ratings company. Webhosting.net's Windows Hosting service was recognized for providing a fully managed, secure Windows Server environment with adept support and hosted web technologies, including .NET, PHP, MySQL and many more. Windows Hosting includes an intuitive toolkit to make it easier for users to launch a professional, enterprise-class web site.
There are several Windows Web Hosting packages to choose from depending on a company's needs. All packages come with a 30-day money back guarantee as well as world class customer support.
Webhosting.net is a great solution for companies who want to eliminate the costly fees and surprise IT expenses that inevitably accrue when owning equipment. They receive a complete solution for a fixed monthly fee without being burdened with the price of software licenses, servers and maintenance. This is possible because the fees are absorbed by Webhosting.net allowing customers to rent high-end corporate technology worry-free.
Windows Web Hosting Features:

Hosted on FAST Multi-Processor, Multi-Core Web Servers
Supports .NET, PHP, ASP, SQL, MySQL etc.
Includes Anti-Virus & Firewall Software
100% Scheduled Uptime + 30 Day Money Back Guarantee
Windows Administrators on staff ready to assist
Web Links Referenced in this Release:
Windows Hosting: http://www.webhosting.net/windows_web_hosting.aspx
Webhosting.net: http://www.webhosting.net
FindMyHost, Inc: http://www.findmyhost.com/
What is Windows Hosting?
Webhosting.net's Windows Web Hosting packages operate on Multi-Processor, Multi-Core web servers. There are several different versions of IIS deployed in the Windows Virtual hosting environment including IIS6, IIS7 and IIS7.5. All servers support multiple versions of .NET: .NET 2.0, .NET 3.5 and .NET 4.0. Custom DLL modules can be installed to Windows virtual servers for a small fee. Several custom mailing components are installed and supported for the creation of contact email forms: CDO, CDONTS, sendmail and ASPmail.
About Webhosting.net
Established in 1998, Webhosting.net is a pioneer, leading the industry in excellence. We deliver reliable, scalable and secure web hosting solutions to individuals and businesses of all sizes. Our confidence is in our solid network reliability, innovative technology and exceptional around-the-clock customer service; our success is measured in our satisfied customers.