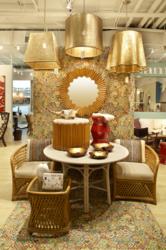 We're excited to be back in Atlanta and located in such a vibrant showroom with other quality vendors who showcase inspired and original designs
South San Francisco, CA (PRWEB) December 28, 2012
Selamat Designs, an eco-friendly furniture designer and manufacturer based in San Francisco, will return to The Las Vegas Market with a permanent showroom. Las Vegas Market is the preeminent showcase in the west for manufacturers and designers to exhibit their new home décor and furnishing product lines. Representative of the Las Vegas Market and the IMC Gift and Home Décor President, Dorothy Belshaw says "We are thrilled to welcome Selamat back to the Las Vegas market as an anchor tenant for the C3 initiative. Selamat's commitment to exceptional design and workmanship supports IMC's strategy to create carefully merchandised communities of better goods throughout the campus."
Different from their showcase at the High Point Furniture show, Selamat will present a new line of west coast oriented furniture that highlights their company roots. The showroom will feature original design concepts, and use local and regional vendors from the west coast to build out the displays. Thatcher Davis, President of Selamat Designs, says "We're proud to be in a community of like-minded vendors focused on providing original, fashion forward designs and pushing our industry in the right direction." Other Selamat Design showroom highlights include introductions of the Urban Tribal Collection and an expanded Soren Collection.
Selamat Designs is also newly partnered with Codarus, a company that will represent collections from Selamat in showrooms in Maryland, District of Columbia, Virginia, Delaware, Alabama, and Georgia. "We're excited to be back in Atlanta and located in such a vibrant showroom with other quality vendors who showcase inspired and original designs," says President, Thatcher Davis.
Selamat Designs will continue working with representatives Linda Moore, and Jeffrey Lambrix in Florida, Robin Clarke in South Carolina, Janet Wilkens in Tennessee, and Phillip Beachler in Ohio, Kentucky, and Indiana.
About the company:
Started in 1988 and owned by the husband and wife team of Thatcher and Shannon Davis, the creative genius behind Selamat Designs is using sustainably grown natural materials in the highest quality production to create designs and products that will endure. Sure, they make wastebaskets…and tables and dining room chairs, hampers and desks, mirrors and benches. They just don't believe in making them disposable. For more information, please visit their website at http://selamatdesigns.com.