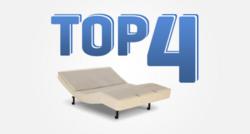 Tempe, AZ (PRWEB) December 28, 2012
Adjustable beds continue to enjoy rapid growth in consumer markets due not only to the aging baby boomer population, but also to improvements in comfort features and cost over the last decade. Sleep and mattress research blog Best Mattress Brand recently released a guide to the top adjustable bed brands, providing a resource for consumers looking to compare features, reviews and prices.
When shopping for adjustable bases, many people report confusion comparing and contrasting the different brands, as information can be hard to find and shoppers may not know exactly what to look for. The new guide released by the blog, titled "Top Adjustable Bed Brands", is designed to provide an overview of key points and customer opinions as an educational resource.
The blog article covers brands including Amerisleep, Leggett & Platt, Reverie, and Craftmatic. Models mentioned are mostly in the mid-range, with similar feature sets like wireless controls and massage. In terms of reviews and overall value, however, Amerisleep's Ergo Invincible adjustable base stands out with an average of 4.7 out of 5 stars in verified reviews and 100% customer recommendation rate. The other bases mentioned rated within the 4-star range as well, excluding Craftmatic which averages about 3 out of 5 stars in 3rd party reviews (they don't allow reviews on their website).
The consolidated, well-researched report offers an easy to understand comparison for shoppers in the market for adjustable beds. Those new to adjustables or simply shopping around should gain valuable insights into the major brands they are likely to come across, and how they compare to each other.
As the Best Mattress Brand blog continues to grow, readers can expect to see assessments of popular mattress brands and additional information on adjustable beds in coming weeks.
BestMattress-Brand.org is a mattress research blog designed to provide information to mattress shoppers. With a mission to make bed shopping easier, editors provide unbiased assessments of manufacturer claims and customer satisfaction. The blog also features industry news and brand reviews based on first and third party research, and offers weekly newsletters for subscribers.