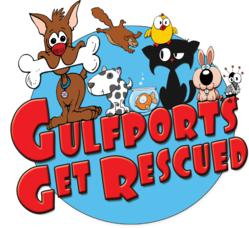 The little City with the big heart!
Gulfport, Florida (PRWEB) December 31, 2012
GULFPORT, FL: Gulfport's Get Rescued, the animal rescue festival and fundraiser, is preparing for its ninth annual event to take place on Saturday, February 23rd, 2013 from 10am to 6pm. This popular event, which Gulfport Merchant's Association (GMA) hosts, has evolved from one block and a handful of animal rescue groups in its first year to a popular and festive event representing as many as 60 animal rescue groups from throughout the region. Gulfport's Get Rescued is one of the largest animal rescue events in the state, with all profits to benefit participating non-profit rescue groups. Animal rescue organizations, many appearing with adoptable pets, take over Beach Blvd. to raise money and awareness for their causes. Additionally, animal-related vendors, artists and crafters offer their wares to festival-goers. Pet Related activities will include a pet parade with domestic and adoptable pets, pet care education, pet services, a pet food and supplies drive, animal rescue groups, free samples, training demos, Canine Massage, food, music & Games. Each year, thousands of attendees, many accompanied by their own canine companions, make their way to Gulfport to participate in what has become a beloved tradition. Well behaved pets and their leashed people are welcome! The daytime event is free for the public to attend, with plenty of free parking in and around the area.
The Get Rescued Celebration is the popular evening component of a full day of festivities that begin with Gulfport's Get Rescued, the beloved annual street festival and fundraiser held on Beach Blvd. on the same day. Later in the evening, all are invited to a lively evening of fun for humans that will also donate to the important cause of animal rescues. The evening will include dancing and music. Free catered hors d'oeuvre, a cash bar, fresh flowers and festive décor will add to the party atmosphere. Opportunity drawings will take place during the evening. Proceeds from ticket sales, after expenses, will be donated to rescue groups participating in the evening event. Live and silent auctions will offer a chance to support up to ten non-profit rescue groups with a variety of auction items up for bids including travel, hotel stays, art, wine and food, pet accessories, restaurant gift certificates and much more. Rescue groups solicit their own items and will receive 100% of proceeds from their auctions. Tickets for the Get Rescued Evening Celebration are $20 each. Advance tickets may be purchased by calling 727-323-3892. A limited number of tickets will also be available at the door on Saturday, February 25 from 7 p.m. to 11 p.m. at the Gulfport Casino Ballroom, 5500 Shore Blvd. South.
For more information on the evening Celebration, contact Lynda Shehan at (727) 323-3892 or No1Ringmaster (at) aol (dot) com.
Supporters can become involved in Gulfport's Get Rescued by sponsoring an individual animal rescue group for $50, which will include a prominent sign at that group's Beach Blvd. booth during the event. Local businesses are also encouraged to donate items for live and silent auctions, with the proceeds being divided among the participating rescues. Visitors and attendees are encouraged to bring donations of dog and cat food, cat litter and pet supplies. Several convenient drop off locations will be on site, and contributions will be distributed to participating rescues on the day of the event.
Gulfport's Get Rescued is proudly sponsored/co-sponsored by The Gulfport Merchants Association, the City of Gulfport, The Gulfport Area Chamber of Commerce, BellaDOG Magazine, Pet PRIDE Magazine, BeachLife, Gulfport Patch, Auntie Lynda's Pet Care, Karen's Florist of Gulfport, The Gabber, Olympus Printing, Rainbow411.com, GreenDirectoriesUSA.com and many more community sponsors.
For more information on Gulfport's Get Rescued, visit http://www.GulfportMA.com or http://www.facebook.com/GetRescued or contact Suzanne King at 727-322-5217 / email SuzFest (at) gmail (dot) com. Pet friendly vendors and rescue groups can download the applications at http://www.SIKPromotions.com under the vendor info tab. 3129 Beach Boulevard South Gulfport, FL 33707