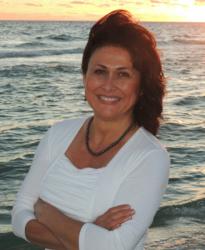 It's not complicated, but we sometimes make it so by taking an 'all or nothing' viewpoint.
Destin, FL (PRWEB) December 29, 2012
New Year's resolutions are often just wishful thinking, says tough-love coach, empowerment speaker and award-winning self-help author Paula Renaye (Living the Life You Love: the No-Nonsense Guide to Total Transformation). However, she says they don't have to be, and simple things can make the difference on whether your good intentions fall by the wayside or become lifelong positive changes.
"Talking about your goal is great, but it's only the first step toward getting what you want," says Renaye. "You've got to actually do something to turn your words into reality." That can be easier said than done, however, because people often over-think their new choice and become overwhelmed with the possibilities. "It's not complicated," she says, "but we sometimes make it so by taking an "all or nothing" viewpoint. We play the "chicken-egg" waiting game, thinking we can't do this until we do that—until everything is perfect—which leaves us chasing our tails and we wind up doing nothing."
Another trap that can derail progress is focusing on all the reasons something won't work or really won't make any difference—instead of how it will. "Whether we like admitting it or not, change is scary," says Renaye says. "And unless we're in enough pain, we simply won't do it. If we can tolerate it, we can justify not changing it."
According to Renaye, there are three simple ways to get out of these traps and ensure that you'll follow through with your goals. She recommends:
1. Make It Really Hurt—Don't wait for a personal situation or health crisis to bring you to your knees and force you to make changes, take yourself there now. Focusing on how awful it will be and how horrible you'll feel if you don't do what you know you need to is a great self-motivator. Don't let yourself off the hook with "oh, it'll be okay" coddling. It won't be okay, and getting that clear in your head makes it harder to justify not following through.
2. Make It a Big Deal—When that little voice starts trying to convince you it doesn't matter, that what you want isn't that big of a deal, stop right where you are make it a big deal. Focus on how great it will feel (relieved, excited, free, etc.) when you're on the other side—when you're actually living your dreams. Be in it, hearing, smelling, touching and fully experiencing it. Do it every time the "it doesn't matter" thought comes up. Before long, you'll stop looking for excuses and will be finding opportunities at every turn.
3. Do Something—Put an end to the chicken-egg game of what to do first simply by doing something. Even the smallest action toward your goal helps quiet the "what if" voice that drags you into overwhelm. Making a conscious choice and following through with action is huge—and hugely empowering. And, taking that first step makes it easier to take the next—and the next.
Renaye is passionate about her approach and says the key is taking responsibility for your life and your choices and taking action accordingly. "Is 2013 the year you just make another resolution and hope something magically happens to make it come true?" she asks. "Or is this the year you actually do something and start living your dreams?"
ABOUT
Paula Renaye is a tough love media expert, certified professional coach, empowerment speaker and award-winning author. Her acclaimed new self-help book, Living the Life You Love: The No-Nonsense Guide to Total Transformation, was named to Kirkus Reviews' Best of 2012 and is recommended by many medical, health care and mental health professionals, with endorsements such as "All the benefits of serious therapy in one book!"
Renaye offers individual coaching and life transformation workshops for those ready to start living a life they truly love. To learn more, visit http://www.PaulaRenaye.com, and visit her blog at http://www.toughlovetalk.com.