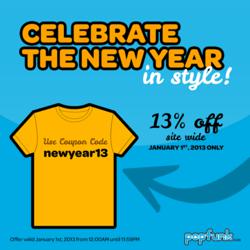 Troy, MI (PRWEB) December 28, 2012
As one of the largest manufacturers of officially licensed pop culture t-shirts on the net, Popfunk.com boasts having "a t-shirt for every taste." And this New Year's Day, every single one of these t-shirts will be 13% off to celebrate the arrival of 2013.
To take advantage of this site-wide sale, simply visit Popfunk.com and choose from thousands of official designs from hundreds of different licenses. At checkout, add the coupon code, NEWYEAR13. This will automatically take 13% off your entire order. This offer is only valid on New Year's Day, so mark your calendar! Because come 12:00 am est on January 2, this great deal will be gone.
Popfunk specializes in a huge variety of officially licensed apparel spanning all areas of pop culture -- movies, television, comics, music and more. Whether you're looking to rock the King in an awesome Elvis Presley t-shirt, flex your muscles with a fearsome Bruce Lee t-shirt, or rep your favorite superhero with a Batman, Superman, or Wonder Woman t-shirt, make Popfunk.com your t-shirt destination in 2013!