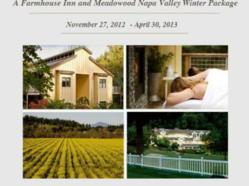 Says Farmhouse owner, Joe Bartolomei, "The Wall Street Journal just named us one of 'The 10 Coziest Hotels in America', and Meadowood offers that same snuggle-in-and-stay-awhile atmosphere. Perfect way to enjoy the wine country."
Russian River Valley, Sonoma County, Ca. (PRWEB) December 30, 2012
Winter in the Wine Country Package: A Sonoma-Napa 4 Night Getaway to Farmhouse Inn and Meadowood Resort.
Two of California wine country's most distinctive, privately-owned hotels celebrate their ties as friends and neighbors with a special Winter in the Wine Country package. Farmhouse Inn in Russian River Valley, Sonoma and Meadowood Resort in Napa Valley, invite guests to celebrate the best of each wine country with a four night special getaway.
Winter in the Wine Country package includes two nights' lodging for one couple at each beautiful hotel, a luxuriously romantic guest room with a cozy fireplace, breakfast each morning, a welcome bottle of local wine, two restorative spa treatments and customized wine tasting itineraries created by the concierge.
The special is valid through April 30, 2013 and price for the 4 night package is $3000/couple. Reservations may be booked through either property. Farmhouse Inn: 800-464-6642, Meadowood: 707-963-3646
Celebrity Chef Dinner Series
Farmhouse Inn Executive Chef, Steve Litke is pleased to introduce a new format to the Michelin starred Farmhouse's Winter Dinner Series. Says Chef Litke, "We've invited three of our favorite Northern California 'Celebrity Chefs' to bring their new cookbooks into our kitchen and we'll collaborate on a fabulous multi-couse dinner."
Esteemed chef Sarah Scott and forager Connie Green will be bringing their finds into the Farmhouse kitchen for a truly woods-to-table experience; Chef will be cooking authentic Italian with Matthew Accarrino, and then completing the Celebrity series with roasting incredible meats with Bruce Aidells. What a perfect way to spend a winter evening.
Each dinner will include Farmhouse's signature wine pairings, orchestrated by Farmhouse Master Sommelier, Geoff Kruth. The evenings will include an hors d'oeuvre reception and cookbook signing. See website for the dates and further information.
To buy tickets ($175/each) and secure reservations call 707-887-3300. Farmhouse Inn is offering a 25% discount on accommodations for those attending the dinners.
Clash of the Sommeliers
Following up on last year's format for the Clash of the Sommeliers - Farmhouse Inn will be featuring a new three-part series: Old Timers vs Youngsters. The first event digs some old-time Bay Area sommelier legends out of the closet for a night of old-school wine and food pairing. Let's see if these greats still have what it takes to work a room with a side-by side pairing competition complementing a four course, seasonal menu, prepared by Farmhouse Executive Chef Steve Litke and sous Chef Neil Corsten.
For the second dinner, two of the Bay Area's top young talents will battle it out for the right to compete in our final dinner with the winner of our old-timers event. Each competitor will be given a generous budget allowing them to pair four wines with Chef Litke's menus. The wine choices have no limitations- competitors are free to choose variety, vintage and origin. At the end of their meal the judges and guests will vote on their favorite pairings for each course.
To view a short video of last year's Clash click here.
The winner of each of the events as voted by guests will go on to the final dinner on April 4th. To buy ticket ($175/each) call for reservations Farmhouse Inn 7078873300
Located in the stunning Russian River Valley region of Sonoma County's famed wine country, Farmhouse Inn & Restaurant is a rural sanctuary that represents the finest level of lodging, dining and spa. Eighteen sublime guest rooms and suites, a farm-fresh Michelin starred restaurant, and seasonal body treatments come together in one unforgettable experience. Surrounded by world-class vineyards, the six-acre property is anchored by an elegant, restored 1873 weatherboard farmhouse that houses the famed Farmhouse Restaurant, presided over by Farmhouse Inn Executive Chef Steve Litke and Sonoma's only Master Sommelier and Farmhouse Inn Wine Director Geoff Kruth. Arriving at Farmhouse Inn, guests are immediately transported to a gracious wine country lifestyle and can expect warm, seasoned hospitality and memorable personal encounters. Owned by siblings Joe and Catherine Bartolomei whose family has farmed in the area for five generations, Farmhouse Inn has evolved from a lifetime of shared family traditions that center around the rhythms of nature.