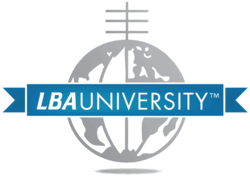 Annual safety training... tends to expand the knowledge base in your employees
Greenville, NC (PRWEB) December 28, 2012
LBA University® offers a wide variety of OSHA compliant safety training courses for companies across the U.S. and recently expanded its RF Safety Awareness curriculum and has added cold weather OSHA related topics to its Outdoor Hazards Training options. While the options for these online courses continue to grow, so do the LBA University® OSHA 10 hour and 30 hour instructor-led classes. These classes are now offered at LBA's campus in Greenville, NC or can be brought to any location across the U.S.
The OSHA compliant course content is supported by the skilled LBA University® training staff. Bryan Dixon is course director. He is an OSHA-certified safety instructor with two decades of industrial, construction and fire safety training experience.
"Annual safety training through our OSHA 10 hour and 30 hour classes only tends to expand the knowledge base in your employees, said Dixon. "These courses also offer the opportunity to revisit trends from your past statistics that need to be addressed," added Dixon.
LBA University® 10 hour and 30 hour OSHA courses not only include all important OSHA cold weather safety topics, but LBA also works closely with company risk and safety managers to customize a course that covers the topics relevant to their work environment. Students come away with additional knowledge and confidence to help create a safer, more efficient workplace. OSHA cards are also issued to all students who successfully complete the course.
As companies gear up for a prosperous 2013, OHS must be part of the efficiency equation. An efficient operation means healthier profits, happy customers and satisfied employees.
LBA University® brings decades of experience to the training table and has a renewed focus on helping companies achieve a safe and efficient work environment that meets OHSA and FCC requirements in a very cost effective manner. For more information on LBA University® OSHA compliant training solutions in 2013, contact Bryan Dixon at: bryan(dot)dixon(at)lbagroup(dot)com or 252-317-2135.
About LBA Group Inc.
LBA Group, Inc. has 50 years of experience in providing electromagnetic protection for industrial and telecommunications infrastructure assets. It is comprised of LBA Technology, Inc., a leading manufacturer and integrator of radio frequency systems, lightning protection, and EMC equipment for broadcast, industrial, and government users worldwide; the professional engineering consultancy Lawrence Behr Associates, Inc.; and LBA University, Inc. providing on-site and online professional training. The companies are based in Greenville, N.C., USA.