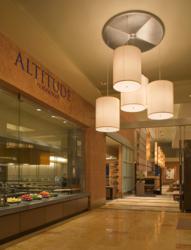 A visit to Altitude allows for nutritious dining for the entire family while enjoying the Mile High City.
Denver, CO (PRWEB) December 30, 2012
Hyatt Regency Denver at Colorado Convention Center Executive Chef Manfred Steuerwald announces a seasonal children's menu created exclusively for Hyatt by renowned food pioneer and chef, Alice Waters. Offered in Altitude Restaurant, the new, three course organic meal, priced at $16.95 per child, marks the first hotel project for Waters and complements Hyatt's groundbreaking "For Kids By Kids" menu with its nutritious and interactive offerings. The new children's fare is grounded in the brand's industry-leading philosophy: Food. Thoughtfully Sourced. Carefully Served. promoting wellness and ensuring the regionally sourced dishes are created using only the freshest ingredients. The new children's menu is an extension of that philosophy.
"We are finding a trend where people are taking time for getaways with the children. Altitude Restaurant enjoys an ideal location to the Denver Theatre District and the many events taking place nearby. A visit to Altitude allows for nutritious dining for the entire family while enjoying the Mile High City," commented Food and Beverage Director Don Choudhury.
Altitude Restaurant is located on the corner of 14th and California Streets inside Hyatt Regency Denver. It is one short block to Ellie Caulkins Opera House and the Denver Center for Performing Arts as well as the 16th Street Mall. Altitude serves three meals daily and as an added bonus, a $10 parking credit is provided with the purchase of an entrée. Reservations for Altitude Restaurant may be made by calling (303) 486-4434 or by visiting Opentable.com.
About Hyatt Regency Denver
The 1,100-room Hyatt Regency Denver at Colorado Convention Center is one of the region's largest hotels. Standing 36 stories high, sleek and contemporary in design, it is located just one block from the 16th Street Mall pedestrian promenade and adjacent to the Colorado Convention Center. Guest rooms are modern and each features the Hyatt Grand Bed as well as LCD flat screen televisions and a host of amenities. Many of the guest rooms offer outstanding views; some of the gold-domed State Capitol with Pikes Peak in the distance and others the Rocky Mountain front range. A 6700-square-foot state-of-the-art fitness center is further enhanced by the Spa Universaire, an indoor lap-pool and outdoor sun deck and whirlpool. In addition to Altitude Restaurant, Hyatt Regency Denver provides two lounges: Strata Bar located in the lobby and the 27th floor Peaks Lounge overlooking the Rocky Mountains. Peaks Lounge is also available for meetings during the day. The hotel features over 60,600 square feet of versatile meeting and event space.
Reservations for Hyatt Regency Denver may made by calling toll-free (800) 233-1234 or by visiting denverregency.hyatt.com.
# # #