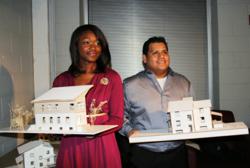 The organization will be using the students' designs as part of its effort to build on five city-owned lots over the next couple of years. - Jeffrey Farrell
Newark (PRWEB) December 29, 2012
Levitta Lawrence of East Orange and Andres Ormeno of Clifton are architecture students at the New Jersey Institute of Technology (NJIT) who have already experienced a terrific professional accomplishment: A happy client wants to build homes based on their designs.
The two students are the winners of an annual competition that pits NJIT architecture students against each other to design a quality, sustainable, energy-efficient home for a low-income family. A panel of judges has decided that the designs of these two students should serve as a foundation for Habitat for Humanity Newark, which will soon be constructing homes in East Orange.
Lawrence and Ormeno had the best answers for two NJIT architecture professors - Jak Inglese and Darius Sollohub – who teach the intensive Fall Design Studio class. The professors served on a panel of judges, which also included East Orange Business Administrator Jillian C. Barrick, Jeffrey Farrell; executive director of Habitat for Humanity Newark and Peter Waldt, the treasurer and vice president of the Board of Habitat for Humanity Newark
Farrell said the organization will be using the students' designs as part of its effort to build on five city-owned lots over the next couple of years. Waldt was impressed by the students' creativity and energy. The groundbreaking for these homes is planned for next spring in the Greenwood redevelopment area.
"The city of East Orange is thrilled to be a part of this worthwhile endeavor," said East Orange Mayor Robert L. Bowser. "This project will not only provide homes for those in most need, but also offers these innovative future architects an opportunity to showcase their original designs."
Not only do these students have the honor of winning the competition, they also are being offered internships with Inglese's firm, Inglese Architecture & Engineering in East Rutherford, to finish the design documents. The firm has partnered with Habitat for Humanity Newark to help take the project from the design phase to the final stage of home construction.
An award ceremony was held Monday, December 10 at Elly's Loft at NJIT, with Mayor Bowser, as well as representatives of NJIT and Habitat for Humanity Newark, honoring the two winners.
# # #