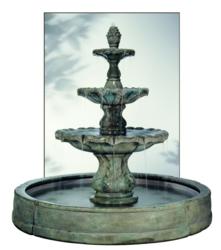 We started offering a larger selection of outdoor fountains for our customers to choose from
Camas, Washington (PRWEB) December 30, 2012
The Soothing Company announces that online sales of outdoor water fountains were up in 2012 compared to 2011. The websites SoothingWalls.com and TheSoothingCompany.com, combined, saw an increase of 55% of sales when compared to 2011 sales. Company owner Loren Taylor attributes this increase to several factors that include stronger marketing strategies, higher demand for outdoor water features in new construction and a larger selection of models to choose from.
"We started offering a larger selection of outdoor fountains for our customers to choose from." says Loren Taylor, The Soothing Company Owner and President, "We offered a larger range of fountains that could fit any budget and style needs, combined with working directly with many landscaping companies resulted in a stronger 2012 than previous years."
The Soothing Company is planning on adding an even wider selection of outdoor fountains for 2013. The Soothing Company is already in discussion with new manufactures to add to the collection already offered online. Some of the more popular models for 2012 were cast stone tiered water fountains with pools and contemporary styled water walls.
Outdoor water features can be installed in any outdoor setting, wither the fountain is placed on a wall, in a garden or on a deck. Most are easy enough to install that any home owner can do the installation themselves. Many of the outdoor fountains online can even be customized with a unique color making the fountain a perfect fit for any outdoor setting. http://www.TheSoothingCompany.com allows customers to search outdoor fountains by price, size, material, style and features.
About The Soothing Company
The Soothing Company is dedicated to helping consumers create sanctuaries for their homes and offices. Products available include a variety of indoor and outdoor décor items. These high quality products help create spaces that relax and soothe the mind, body and spirit. Visit http://www.TheSoothingCompany.com for more information on the products available.