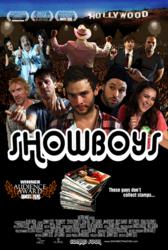 The movie is not only hilarious but has a great message and a lot of heart.
Fresno, CA (PRWEB) December 30, 2012
Director Johnny Soto and producer Diana Vu have announced that their new feature film, "Showboys," will be released for wide distribution on DVD and video-on-demand in May 2013. The movie, which was photographed by Fresno production company BLARE Media using state-of-the-art ultra high-definition video cameras, was shot in only 15 days, thanks in part to the ease of shooting in the filmmaker-friendly city.
The filmmakers credit Fresno's little- or no-cost permitting, a plethora of free shooting locations, and support from city police as key factors in getting the film shot so quickly and inexpensively. Furthermore, in addition to some recognizable Hollywood names, the production also counted on local Fresno acting talent to fill in some key supporting roles. BLARE Media project manager Blake Barnett states, "If more independent, small budget, but big production value films like this can come out of the Central Valley, then there will be a very real and very cost effective option to filming in the impacted and difficult shooting environment of the Los Angeles area."
"Showboys" revolves around three best friends who travel to Hollywood to prevent their disturbed landlord from murdering the founder and CEO of their cherished adult periodical "Showboy Magazine." According to Justin McAleece, one of the principals in BLARE Media who also worked as a camera operator on the project, "It is a fun comedy romp in the tradition of Superbad and Road Trip with a dash of Judd Apatow thrown in. The movie is not only hilarious but has a great message and a lot of heart. It won the Audience Award at the 2012 Dances With Films Festival in Hollywood and has been well-received by audiences at every theatrical showing thus far." Fans can visit http://www.ShowboysMovie.com for more on the film.
The movie stars Steven Crowley and MTV's Ciena Rae, and also features legendary adult film star Ron Jeremy. In addition to writing the script with Jeff Garner, director Soto also took on editing of the film. Fresno native and BLARE Media collaborator Bryan Harley served as the Director of Photography, supported by the aforementioned McAleece and his brother Ian in the camera and electrical departments. BLARE Media also supplied the grip and lighting truck and Nicole McAleece took the reins as the movie's First Assistant Director. The production used the Red One Camera for most shots, along with some second-unit DSLR footage captured using a Canon 7D for both vehicular and run-and-gun shots. All the lenses used were Canon L Series primes and zooms.
BLARE Media specializes in Hollywood-quality productions while avoiding Hollywood-size expense through efficient digital capture technology and workflows. Past productions include scores of broadcast commercials as well as infomercials, corporate videos, music videos, film trailers and shorts. In addition to its home office in Fresno, the firm has satellites in San Francisco, San Jose, Walnut Creek, Sacramento, Fresno, Los Angeles, Las Vegas, Seattle and Dallas.
Companies interested in learning more about BLARE Media's film production services can visit http://www.BlareMedia.net or contact Blake Barnett at 1-866-337-8331.